Maternity leggings are a comfortable and practical option for pregnant women. These leggings are designed to provide support and flexibility for the changing body during pregnancy. But you can also incorporate them into stylish outfits. Thus, you may think, "What can I wear with maternity leggings?"
Being stylish while dressing your bump can be tricky. So, look no further if you are wondering what to wear with maternity leggings! Whether you prefer a casual, dressed-down look or a more polished, put-together style, there are options for every occasion. So, you can find just the right pair to suit your temporary fashion needs.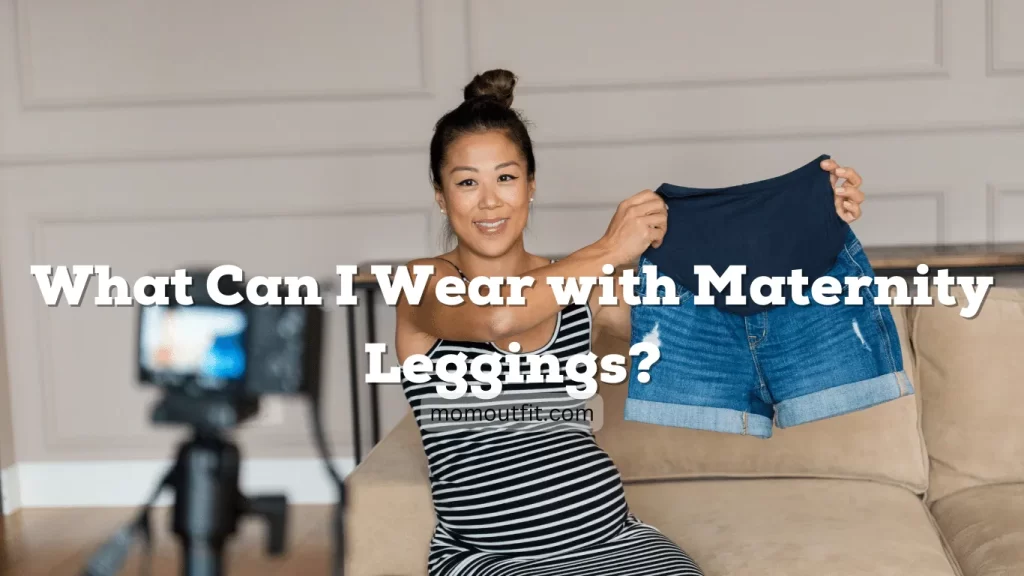 Hence, I am here to provide fashion-savvy mamas-to-be with tips and inspiration on how to dress those pregnancy curves in style. From traditional denim to stylish printed fabrics, please continue reading for tips on how to style maternity leggings for various occasions.
With creativity and guidance, you can easily create chic and comfortable maternity outfits featuring leggings. Let's dive in and explore the possibilities!
Types of Maternity Leggings
Maternity leggings offer a comfortable and stylish clothing option during pregnancy. With the right design and color, you can put on leggings for leisure, formal outings, and any occasion. The key is choosing a maternity leggings style that will flatter your figure and work with your wardrobe.
When shopping for maternity leggings, it is vital to consider the type of fabric because there are so many options available.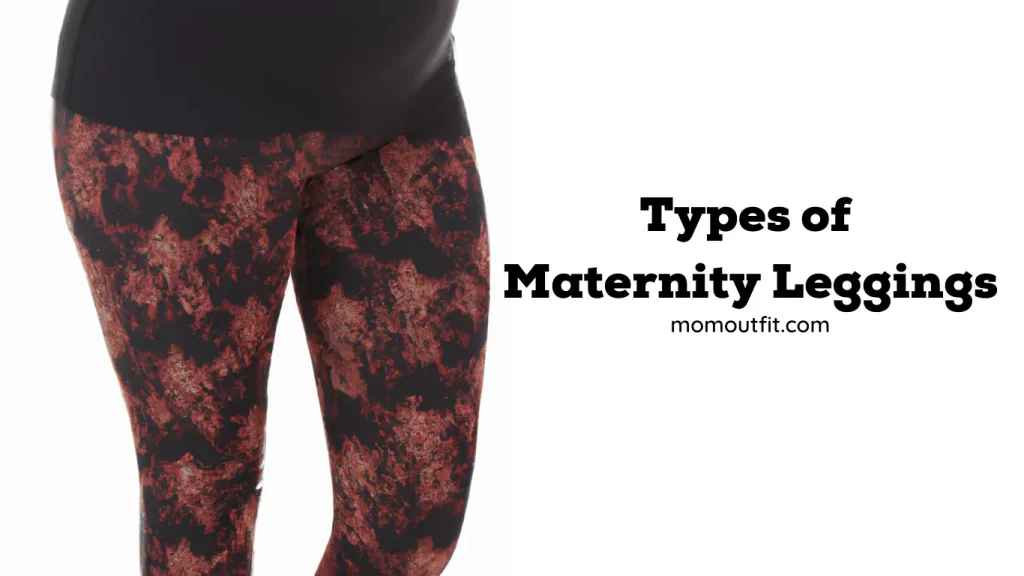 The most popular choices are:
Jersey knit: These are usually made from a stretchy cotton blend fabric that is lightweight and breathable.
Ponte knit: Typically made from rayon, nylon, or spandex, these offer more support than jersey knit but may be less breathable.
Stretchy denim: For a more casual look, you might prefer jeans made from lightweight denim or another stretchy fabric.
Fleece lined: These generally include insulation to keep you warm during colder months.
Printed or patterned: You can find inexpensive printed leggings in various patterns and designs, plus size ranges available too!
From checkered to animal print designs, add fun to your outfit with these stylish legging options!
I hope you have chosen the type of material that works best for you. Now you should consider the style and fit of your maternity legging selection.
You should choose one that fits easily and provides enough coverage to keep you secure throughout pregnancy.
How to Style Maternity Leggings
Maternity leggings are a comfortable wardrobe essential during your pregnancy. They are stretchy and supportive. Also, you can style these leggings in an array of fashionable ways to keep you looking stylish and comfortable as your bump grows.
When it comes to how to style maternity leggings, there are many options available. You can opt for more casual looks by pairing them with baggy tops, jumpers, or oversized knits for a relaxed feel.
Longline tunics and shirts make for a flattering look that accentuates your shape. Again, you can elevate this outfit with statement accessories such as belts, jewelry, or scarves. Alternatively, you can experiment with more innovative looks for an occasion or evening out.
For example, blazers and fitted cardigans will give a structured shape to the loose fabric of the leggings. On the other hand, simple tops and tee shirts add a laid-back touch which you can spruce up with heeled boots and smart shoes.
You may also team them with printed dresses and longline shirts – tucked in at the front or loose over the top. It will provide both coverages of your bump and a contemporary look.
Whatever style you choose, however, maternity leggings remain at the core of any outfit while highlighting your growing bump in comfort and style!
What to Wear with Maternity Leggings
Or, What can I wear with maternity leggings?
Maternity leggings are an excellent way to stay comfortable and fashionable during pregnancy. There is nothing like slipping into a cozy, stretchy pair of leggings that provide comfort and plenty of room for your growing baby bump.
However, it can be tricky to know what you should pair with maternity leggings for a stylish and pulled-together look. Fortunately, many options are out there!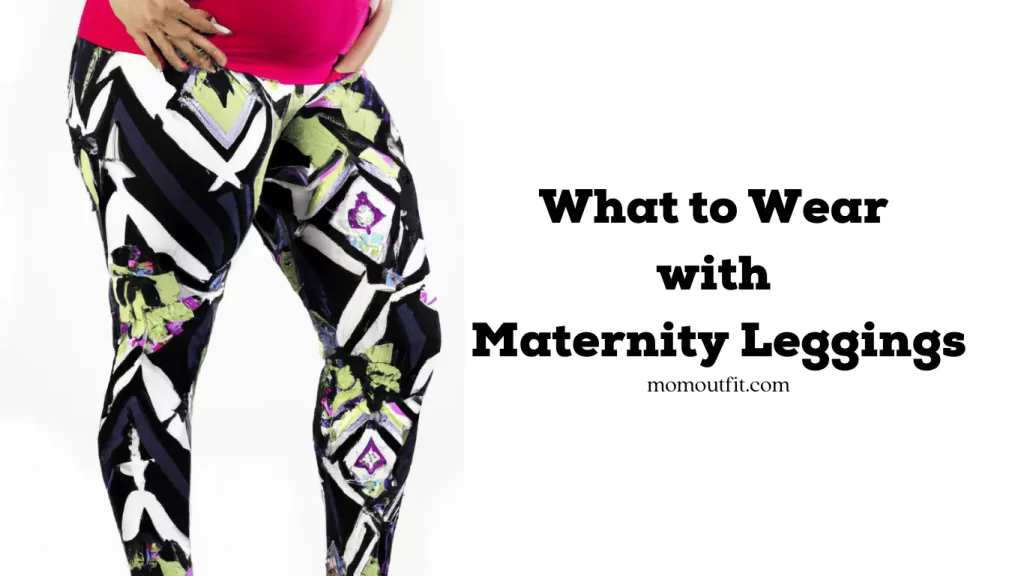 Here are some clothing pieces that go great with maternity leggings:
Maxi dresses and skirts: Pair them with a long shirt or fitted top for an effortlessly elegant look.
Loose tunics: These silky tops are perfect for creating a chic bohemian style.
Button-down shirts: They can be worn open over t-shirts or blouses for an effortless style upgrade.
Sweaters: Whether chunky or fitted, sweaters add warmth without compromising comfort or style.
Shoulder-less tops: Opt for sleeveless styles to stay cool while still looking chic on scorching days!
However, when you invest in comfortable pieces like maternity leggings, the rest of your wardrobe becomes less daunting!
Styling Tips for Maternity Leggings
Maternity leggings have become increasingly popular as women look for stylish and comfortable ways to dress their growing baby bumps.
If you recently purchased maternity leggings, you may wonder how to style them correctly. With a few tips and tricks, it is easy to create chic looks with your maternity leggings.
When styling maternity leggings, opt for fitted tops that cinch at the waist or are slightly loose so as not to look too tight.
A classic tunic is a great option that can be easily dressed up with accessories like jewelry or an oversized scarf or dressed down with sneakers for casual wear.
Other top choices include oversized sweaters and cardigans, which pair well with maternity leggings for colder months of the year.
For a more polished look, pair your leggings with a collared shirt, blouse, wedge sandals, or even ankle boots, depending on the weather.
Add some layers, such as a bomber jacket or jean jacket, for extra warmth.
If you are daring, add some patterned maternity leggings and solid colors. It will create fun and exciting looks on top of your basics, like black ankle boots, white t-shirts, and denim jackets.
Remember to prioritize comfort regardless of how you style your maternity leggings! With these styling tips in mind, you'll surely get plenty of stylish ways to rock your pregnancy fashion game this season!
Best Colors to Wear with Maternity Leggings
Wearing maternity leggings is a great way to stay comfortable during pregnancy. Although it may seem intimidating to choose what to wear with them, there are many options!
With maternity leggings, light, cool tones such as pastels and neutrals tend to be the most flattering.
For example, light pink or baby blue are great options. You can also use simple whites and blacks to create a sophisticated look.
Brighter colors like red and yellow can be fun too! Just make sure the color complements your skin tone and matches the look you are going for.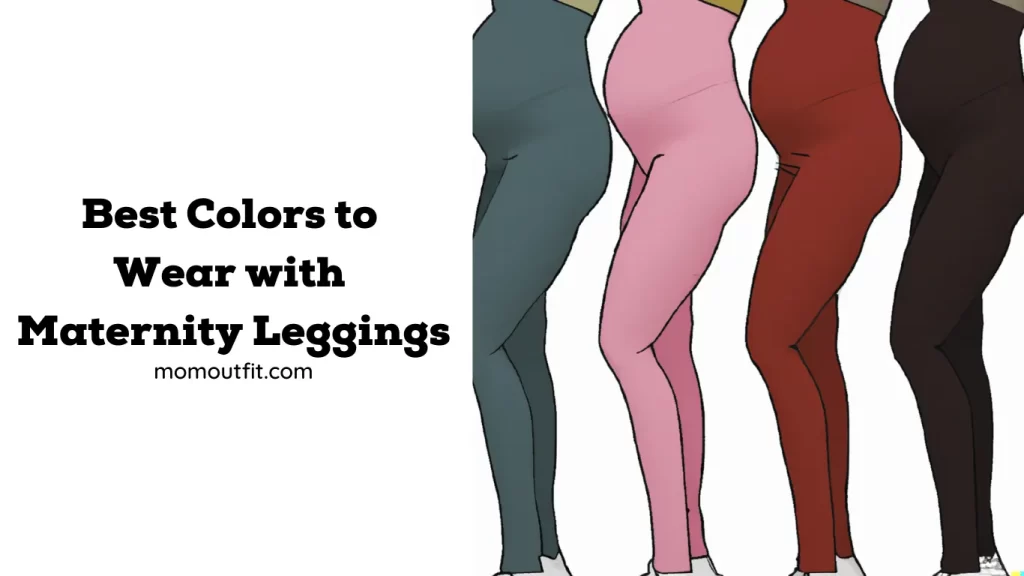 Maternity leggings also come with patterns – think polka dots, stripes, floral designs, or abstract prints that keep your ensemble interesting (and motherly!).
For an extra touch of femininity (or whimsy!), add a beautiful necklace or scarf in a complementary shade over your outfit.
Besides selecting the best leggings colors, you may pair them with your other garments. You should not forget that comfort is critical when pregnant! So, pick fabrics that are lightweight and breathable. It will prevent you from becoming overheated while out on errands or running around after little ones.
Accessories to Wear with Maternity Leggings
When considering an outfit to wear with maternity leggings, you can wear accessories to give your look a finished appearance.
Selecting how to accessorize your maternity leggings depends upon the style of the top and the occasion you are attending.
Whether going to a casual event, running chores, or dressing for work, there are several options for adding accessories that suit your taste and sense of style.
For a casual look, add a long necklace or a colorful scarf. Layer several necklaces if desired for more volume or color.
Scarves can also add an element of style when wearing maternity leggings. When attending a casual gathering, select a neutral-colored scarf from lightweight fabric and tie it around your neck in a loose knot.
Feel free to experiment with different lengths or patterns as well. Comfortable pieces like scarves can give you breathing room while adding dimension to any outfit.
A blazer is another great way to dress up maternity leggings and create the right look for any occasion. Pick a jacket that falls below the hips for more coverage and is comfortable enough to move around.
Select classic black or navy-blue blazers for at-work events or change them with pastel colors or metallics such as gold, silver, and copper during semi-formal outings.
If needed, you can layer sweaters over maternity leggings and blazers on colder days.
Finish off your look with classically styled boots, sandals, or heels — these shoes will add sophistication and structure while completing your flawless ensemble!
Conclusion
Maternity leggings are a versatile wardrobe. You can style them for any occasion.
Your style preference is casual, dressed-up, or somewhere in between. Then, there are plenty of options for styling maternity leggings.
Consider the type of material, style, and fit of your maternity leggings, then choose tops and accessories that will flatter your bump and create the perfect look.
With the proper guidance and knowledge, you can quickly put together chic and comfortable outfits featuring leggings. So, do not hesitate to experiment and enjoy the art of fashion during your pregnancy!
Now you know what to wear with maternity leggings. Also, got the answer: "What can I wear with maternity leggings?"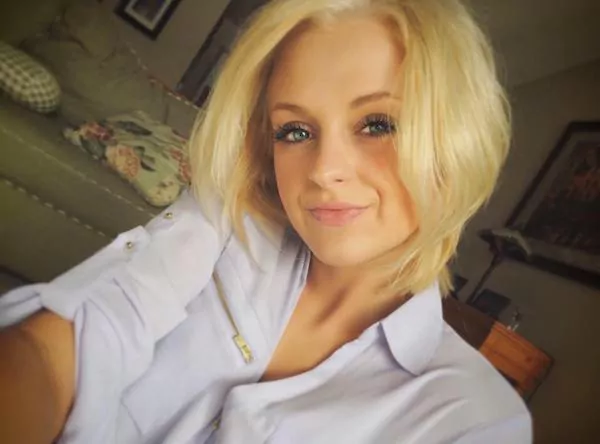 Born in Texas, Jennifer loves to spend time with her kids. Often, she shares her thoughts from the experience of being a mother. She focuses on surprising the Momoutfit readers with incredible information. Her vision is being a better mother, a visionary person.