Keeping warm and stylish for a pregnant mama-to-be can be challenging as winter approaches. The right sweater offers endless options for staying comfortable and fashionable during your winter pregnancy.
During your winter pregnancy, you can showcase your style while staying warm and comfortable with creative sweater choices. Try layering a snug turtleneck under an oversized, chunky sweater to add warmth and texture to your outfit. A belted sweater can accentuate your changing silhouette and create an elegant look.
Experiment with off-shoulder sweaters for a touch of sophistication or embrace the cropped sweater trend for a modern twist. Maternity ponchos provide ample room for your growing bump and bring a bohemian flair to your ensemble.
Don't forget to accessorize with statement pieces like necklaces, scarves, or hats to add personality and divert attention from your bump. Sweater dresses and cardigans are versatile options, and you can even mix and match different sweater styles and textures for a dynamic winter look.
Prioritize comfort with soft, breathable fabrics to keep you cozy without overheating, and enjoy expressing your unique style throughout your winter pregnancy.
In this blog, we will explore many ways to wear sweaters that keep you warm throughout your pregnancy. So, bundle up, and let's get started!
Choosing the Right Style of Sweater for Your Pregnancy
When choosing sweaters to wear during your pregnancy, picking styles that accommodate your changing body shape is crucial. Some essential tips are here to help you select the suitable sweaters for that cozy and stylish look during the colder winter.
Loose-Fitting Cardigans
Open-front cardigans can help shape your pregnancy figure while providing warmth and coverage in the cold months. A waterfall cardigan works best if you are trying to create a fun, layered look with a cozy scarf or two for those extra chilly days.
Bolero Shrugs
A great way to keep warm and cute as you show off fashion-forward style with a fashionable bolero shrug. They come in short-sleeve or long-sleeve varieties and fit closely around the arms but drape loosely over growing baby bumps.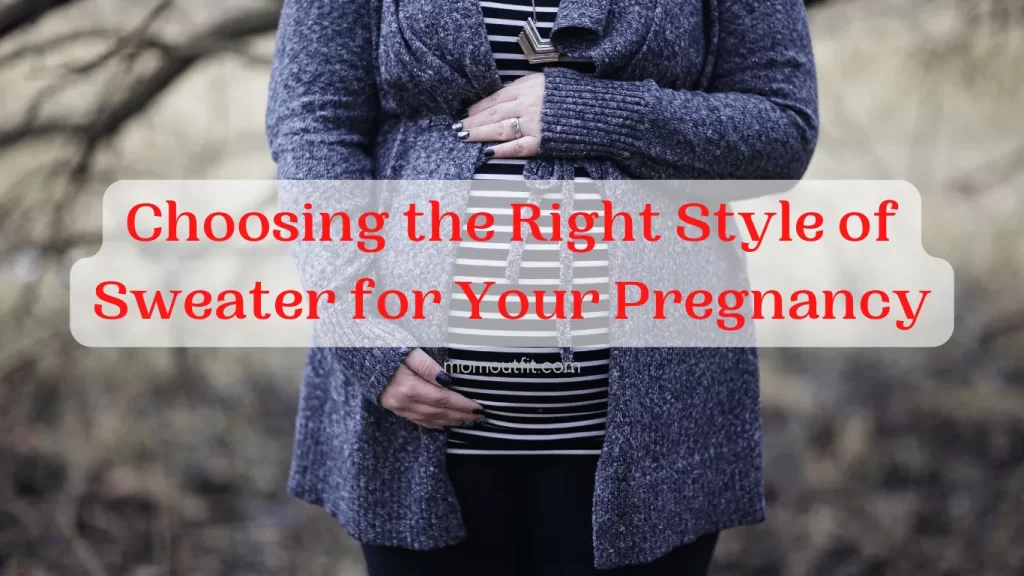 Maternity Sweaters
As your bump grows, so do the options for maternity sweaters! Selecting ones that come down low enough on the hips helps support growing bellies while maintaining a comfortable fit simultaneously. Plus, their vibrant colors guarantee effortless chicness.
Oversized Pullovers
Since oversized pullovers work well for anyone looking for an easy way to layer up during wintertime, pregnant ladies will also benefit from this style!
Choose generous fits and necklines that allow room for growing baby bumps. So, you will stay cozy this season without any added fuss or bother.
Layering Your Sweaters for Maximum Comfort
Layering your sweaters this winter is an excellent way to stay comfortable during pregnancy. By layering sweaters together, you can easily adjust the layers according to the weather and your feelings.
During colder weather, you can add as many layers as needed; slip off a layer or two in warmer temperatures.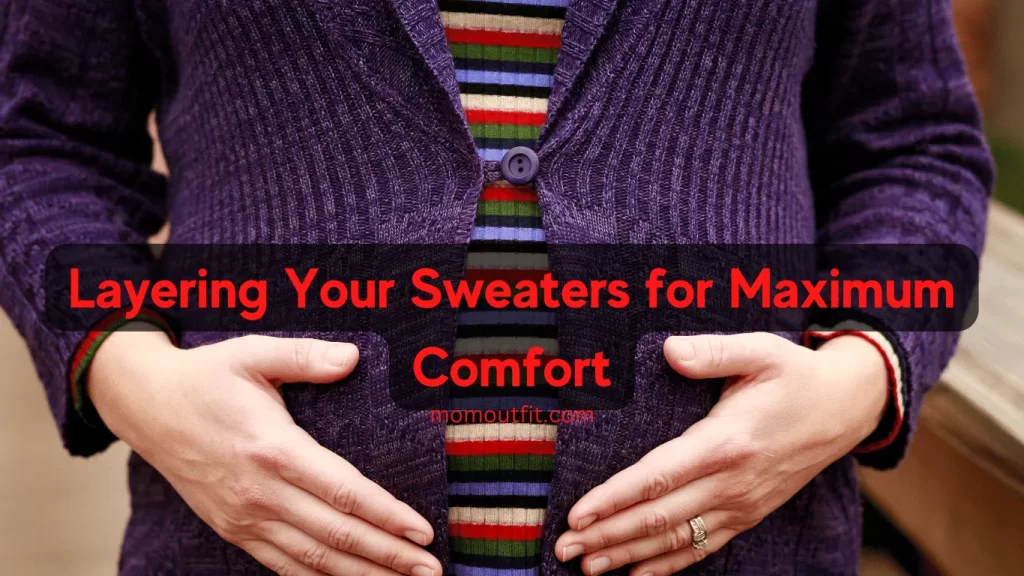 Start with a lightweight base layer such as a cami or tank top that you can use year-round. It will provide some coverage while remaining breathable—a key consideration when staying warm and comfortable while pregnant during winter. You can layer on top of that a sweater with flared sleeves and a boxy fit to accommodate your growing bump comfortably. For extra warmth, add a cardigan or long-sleeve overtop for extra snuggly coziness!
Offset these longer pieces with fitted bottoms that accentuate your curves without overly constricting around your baby bump—It is all about comfort! Depending on the temperature outside, you can switch out the heavier sweaters for lighter vests or ponchos.
Winter pregnancies do not have to be uncomfortable – keep some lightweight base layers around and layer multiple pieces of clothing together for maximum warmth!
Accessorizing with Scarves and Hats
During the cold winter months of pregnancy, adding extra layers of warmth and protection is essential. Stylish scarves and hats can be the perfect way to keep yourself cozy while looking fashionable.
Scarves
Scarves are an essential winter accessory for pregnant women. They can provide extra heat around your neck while adding a nice style touch. Long-length scarves also make a great piece of clothing to drape around your expanding belly area. Besides, they allow plenty of freedom and movement throughout your day.
There is no shortage of scarf choices. Try experimenting with different textures, such as wool or cotton, or different colors and designs to find the right look.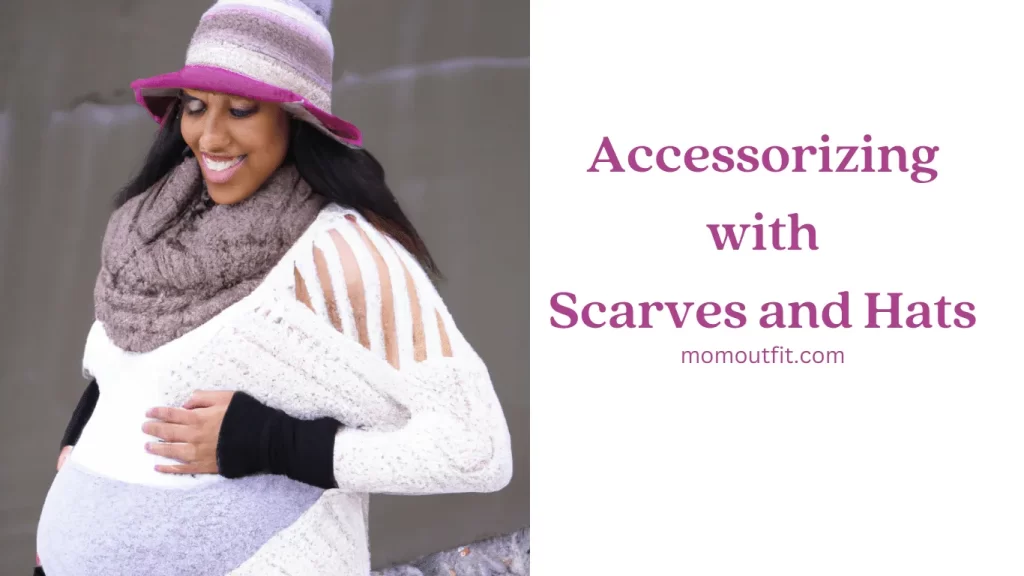 Hats
The stylish beanies, caps, and wide-brimmed hats help keep you warm during winter pregnancy. Also, they are another great way to accessorize your sweaters in fashionable ways.
Consider opting for a hat with some texture, like wool or cable-knit, for added comfort. Look for styles that do not go too tight on your head, ensuring enough heat retention throughout the day.
Dressing Up Your Sweaters for Special Occasions
Dressing for the cold weather can be challenging depending on your pregnancy stage. You want to stay comfortable but do not want to feel like a tent! Sweaters are an excellent choice for pregnant women during winter months. They provide warmth and style.
Special occasions may require something more than your standard everyday sweater.
If you want to dress up your sweater for the holidays or other special occasions, there are plenty of stylish options.
For example, pair a flowy blouse with a structured blazer and add cute accessories like earrings and necklaces to complete the look.
Another option is wearing a cropped top over an oversized cardigan—this laidback style is perfect for any event.
Or, if you are attending an upscale event that calls for something more glamorous than everyday attire — try layering a long-sleeve embellished dress over another dress in a contrasting color. This way, you can get some extra warmth without compromising on style!
Sweaters are an excellent choice, no matter what special occasion you are getting dressed for during your winter pregnancy!
Style them with shoes and accessories to create looks that reflect your fashion while providing plenty of warmth and comfort throughout the season.
Styling Sweaters for Work or School
When pregnant in winter, staying warm and stylish can be tricky, especially if your job or school requires you to dress more formally. As the length and temperature of the days get, finding ways to stay warm that do not sacrifice fashion is essential. Cozy sweaters are a great solution!
With simple styling tricks, you can update your look with seasonal sweaters that are both comfortable and appropriate for work or school.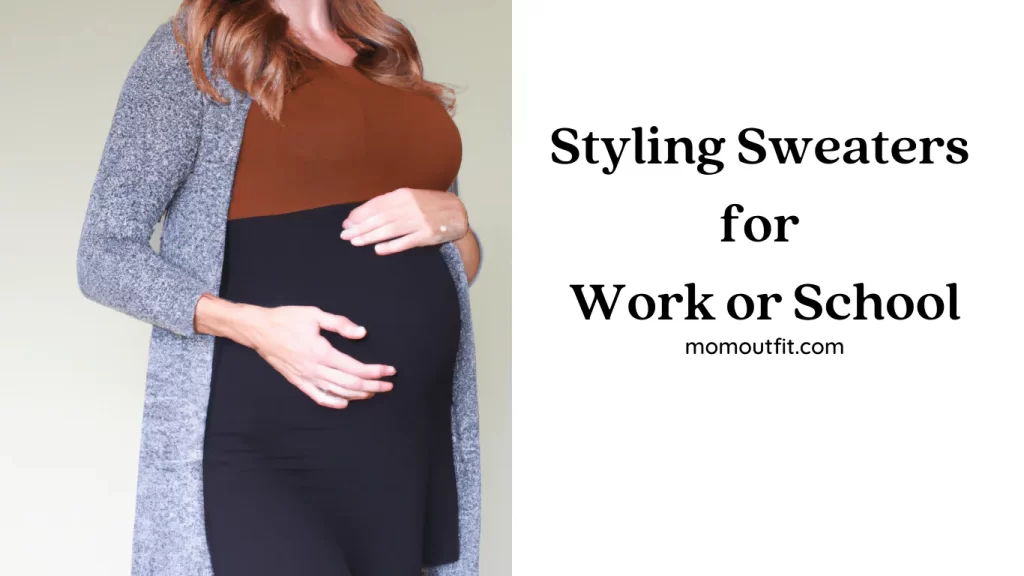 Here are some tips for styling sweaters during your winter pregnancy:
Opt for V-neck styles. They look professional and will draw your eyes away from any baby bumps you may have.
Create balance by pairing fitted bottoms with relaxed chic sweaters. It will also flatter your figure while keeping you warm all day long.
Add layers. Wear a shirt underneath your sweater, then top it off with a structured blazer or vest to provide extra warmth and definition across the chest area.
Go one size up when selecting a sweater. It will give you more room in the back area while maintaining a comfortable front waistline, which is perfect for anyone trying to hide their baby bump.
Accessories can take any outfit up another notch. Spice up an outfit with statement pieces like scarves or jewelry. They will help keep your look updated without making it too uncomfortable
Mixing and Matching Sweaters with Other Winter Clothing
Mixing and matching winter clothing is a great way to show off your pregnancy during the colder months. Trying different color combinations and layering pieces can help you create flattering styles that emphasize your changing shape while keeping you warm.
You can play up the texture of winter fabrics like wool, cashmere, or mohair when wearing sweaters. Matching a lightweight feather-knit pullover with a structured wool coat creates an exciting juxtaposition in texture and tone.
Add fur accessories like a scarf, hat, or mittens for extra warmth. You do not have to stick to solids when matching clothing pieces. Choose tops with patterns or color block designs for added interest, as long as they complement each other in tone and silhouette.
Cardigans are great for quickly transitioning from cold outdoor temperatures to indoor warmth — contrasting colors between coats and cardigans will give you an extra layer of interest.
Sweaters can also be part of an ensemble that includes pants and skirts — experiment with the shape and length of bottoms for different looks!
A long sweater dress combines practicality with comfort during colder weather months. Alternatively, shorter sweaters can be worn over fitted trousers or ankle-length leggings. Try to choose colors that complement each other for maximum style points!
With all these options, your winter wardrobe will look snazzy while keeping you cozy and comfortable throughout your pregnancy!
Keeping Warm and Stylish on Cold Winter Days
Pregnant women may need to dress strategically for warmth and comfort as the temperatures drop. During pregnancy, your body often struggles to keep itself warm, and wearing superficial layers can help.
Slightly looser and heavier fabrics offer more comfort than a thick coat or other parkas while temperatures plummet. Start with a long sleeve undershirt or leggings underneath to add extra warmth.
Depending on the weather outdoors, you may want to opt for mid-thigh length sweaters or team up with a heavier scarf (like wool) to bring added warmth too.
Sweaters are great because they come in light and heavy weights. So, you can choose the fabric you prefer and enjoy its comfort. Various styles like short-sleeved V-necks are perfect for those chilly days when you still want to look fashionable but need more layering possibilities than an open cardigan can provide.
Loose-fitting knit sweaters and oversized hoodies pair great with jeans or maternity leggings, as they provide over-the-bump coverage without putting any pressure on your pregnant belly.
Cable knits look great with ankle boots as another stylish option for keeping cozy during winter outings!
How to Wear Sweaters to Hide Pregnancy?
If you're looking to wear sweaters to hide your belly bump, here are some tips:
Choose the right size: Pick a sweater that's not tight or loose. A fitted sweater may highlight your bump, while a baggy one may make you look bigger than you are. Look for a sweater that falls loosely over your body without clinging to it.
Opt for darker colors: Dark colors tend to have a slimming effect. So, I suggest picking a sweater in a dark color. They can be black, navy, or charcoal gray. Avoid light or bright colors that draw attention to your midsection.
Look for styles with details: Sweaters with more information, like ruching, draping, or asymmetrical hemlines, can help to camouflage your bump. These details draw the eye away from your belly and create a more attractive silhouette.
Layer up: It is a great way to hide your belly bump. Wear a camisole or tank top underneath your sweater, and add a jacket or blazer. It will create a vertical line that elongates your torso and helps to disguise your bump.
Accessorize wisely: Choose accessories that draw attention to your face rather than your midsection. A statement necklace or earrings can be a great way to add interest to your outfit without highlighting your belly bump.
Remember, you do not need to feel self-conscious about a belly bump. Embrace your body and wear what makes you feel confident and comfortable!
Practical Tips for Maintaining Your Sweaters During Pregnancy
With the arrival of winter comes the need to layer up with warm clothing. It is especially true if you are pregnant. Finding stylish ways to wear sweaters during your winter pregnancy can be challenging. But with a few helpful tips and tricks, you can ensure your outfits are comfortable and flattering.
When shopping for winter sweaters during pregnancy, opt for styles with extra length or a body that will fit comfortably over your growing belly. Look for natural wool or cashmere materials that provide added warmth without feeling too bulky.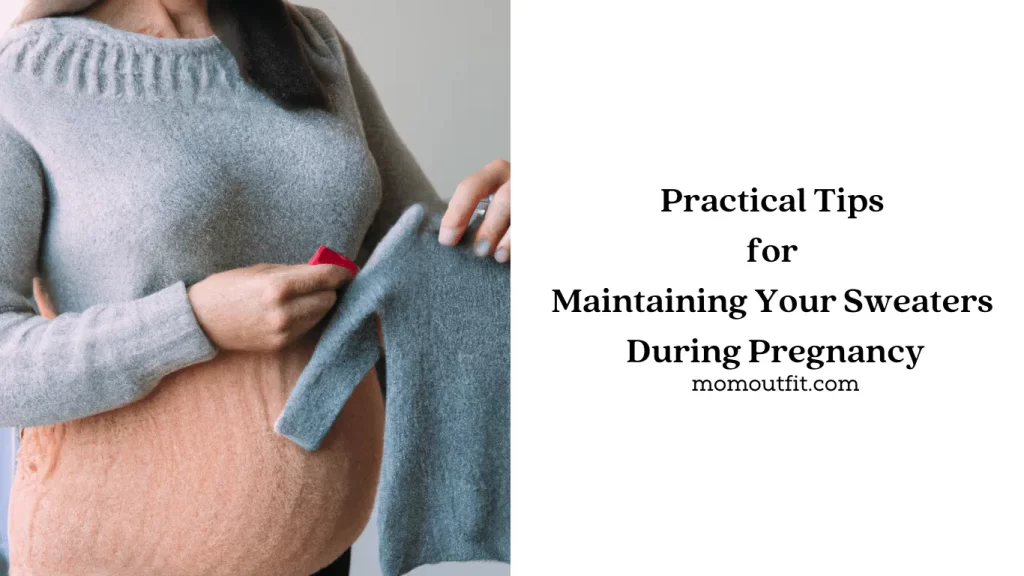 Longer-length sweater coats or tunics also offer coverage from the waist down — two birds with one stone since they look fashionable and come in handy when taking frequent bathroom breaks!
When wearing your sweaters, ensure they do not cling to your belly area too tightly by pairing them with non-restrictive bottoms like oversized skirts or leggings instead of skinny jeans or fitted pants. Also, ensure your belt high-waisted items to show off your blossomed waistline rather than keep it under wraps.
It is all about finding clothing items that provide flexibility in size and give you space to move around comfortably as you get bigger throughout each trimester.
Other essential pieces, like light scarves or denim jackets, are great ways to add extra warmth when temperatures drop even lower.
These lightweight layering pieces help transition any look from daytime work-appropriate attire into an ultra-cozy party outfit. Additionally, they provide plenty of breathing room for the baby bump. So you can enjoy being stylishly dressed even during those colder months!
So, those were the ways to wear sweaters during your winter pregnancy. I hope you loved the post. Thanks for coming here. Please, feel free to give out your thoughts in the comment section.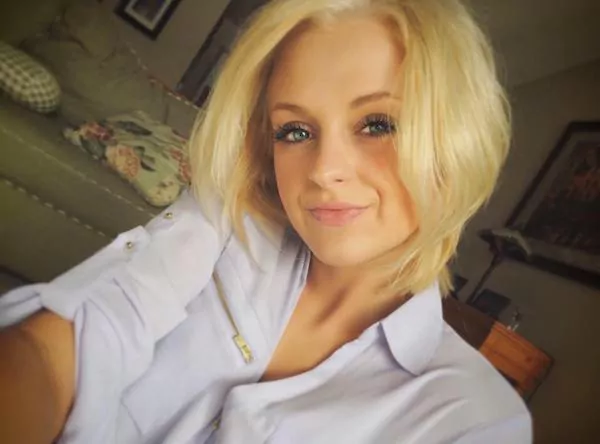 Born in Texas, Jennifer loves to spend time with her kids. Often, she shares her thoughts from the experience of being a mother. She focuses on surprising the Momoutfit readers with incredible information. Her vision is being a better mother, a visionary person.