Congratulations! You've just had a baby. And now, you're ready to hit the town in style. But you don't want your postpartum look to be less than perfect. Don't worry – I have got you covered!
This blog has everything from trendy maternity clothes to comfy nursing-friendly outfits. So, you can feel confident and chic during this special time in your life.
Read on for my top postpartum outfit ideas!
Overview of Postpartum Body Changes
Postpartum is the period after childbirth when a new mother's body begins to return to its prepregnant state. It typically lasts 6-8 weeks, though recovery can take longer depending on the type of birth and any medical issues that occur during labor and delivery. During this time, a mother's body undergoes significant changes as it begins to heal and recover from pregnancy, childbirth, and nursing her newborn baby. As a result, many postpartum moms find that their traditional wardrobe no longer fits them comfortably or appropriately.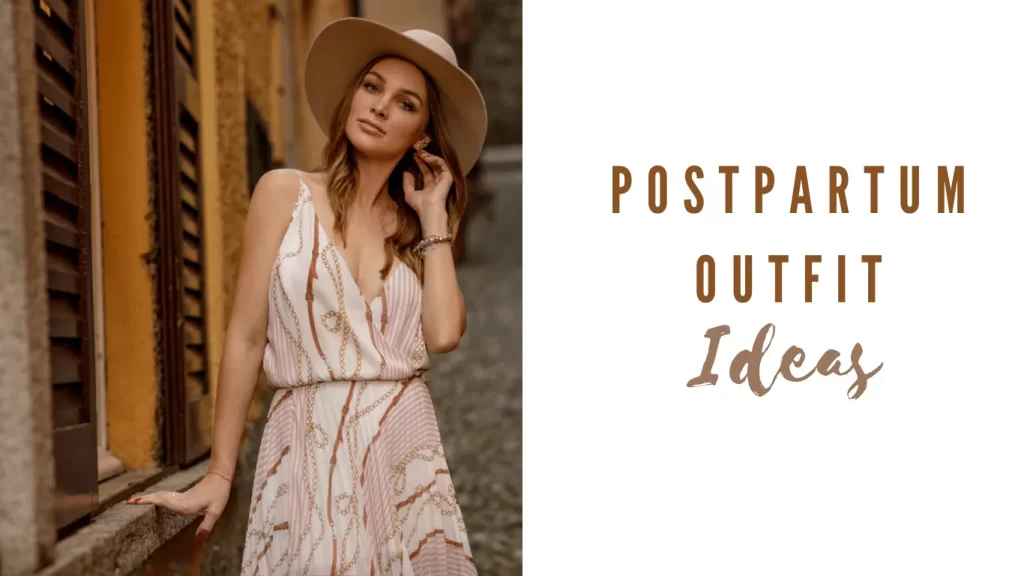 Benefits of Postpartum Outfit Ideas
The good news is that finding postpartum outfit ideas isn't complicated when you know what to look for. Also, there are plenty of benefits for postpartum moms in finding clothing items specifically designed with their bodies in mind. These items are designed with both form and function: supporting a postpartum body that needs extra care and incorporating stylish designs for postnatal fashionistas! With so much upheaval in your life after having a baby, carefully chosen clothing options can provide much-needed comfort and ease.
Postpartum clothing helps to enhance how you look by providing flattering styles. Besides, it serves the purpose of making sure your body is adequately supported during the healing process. Postnatal clothing should be made from soft fabrics. So, they don't irritate delicate skin or scratch at incision sites. They should also be adjustable to accommodate any shifting weight while breasts fluctuate due to breastfeeding. Finally, they should add ample support around the midsection if mommy has had a c-section or undergone abdominal surgery recently.
Some other reasons why postpartum mothers need special clothes to include:
Providing nursing-friendly features for breastfeeding mothers.
Accommodating extra fluids retention which can cause swelling of ankles and feet.
Eliminating pressure on the belly or cesarean cuts caused by restrictive fabrics from regular maternity clothes.
Aiding with compression & posture management after delivery etc.
Where to Find Postpartum Outfit Ideas
As a new mom, you may not feel comfortable in your regular, pre-pregnancy wardrobe. Shopping for new outfits to try might seem like an overwhelming task. But there are plenty of stylish and comfortable clothing options that make postpartum dressing easier.
The best place to start your search is online. After all, many websites and online boutiques offer stylish postpartum dresses, tops, bottoms, and other essentials. These online destinations make it easy to browse collections briefly and filter out styles that don't fit your taste. You can also find helpful sizing charts on these sites to find the right size for yourself or a loved one.
You should also check out magazines such as Parenting Magazine or What to Expect When You're Expecting, which feature articles with pregnancy and postpartum clothing advice from expert fashion editors. Additionally, many famous fashion blogs written by moms may provide snapshots of their personal style journey and tips on where to shop for various looks. Don't forget those friends who have been through it all before. They can give valuable insight into where to shop for the most flattering postpartum looks and pieces you'll love!
General Tips for Finding Postpartum Outfit Ideas
Now that you're a new mom, it's time to ensure your wardrobe is set up for your changing body and lifestyle. After giving birth, you may have some extra weight around the tummy area and with that in mind. Comfort should be key when selecting postpartum Outfit Ideas.
It can be rugged looking for clothes after pregnancy as styles often fit differently than pre-pregnancy. But there are some things to keep in mind when choosing outfits:
Choose items with adjustable features such as drawstrings or elastic waistbands, and stretchable fabric like a cotton knit or Lycra will feel comfortable and stylish.
If you cannot find something that fits correctly, do remember to get clothes a size up to ensure comfort.
Remember that your body is still going through recovery. So, don't overstrain yourself by pulling or tugging tight-fitting clothing.
Avoid wearing tight short dresses or pants as they may leave uncomfortable marks around the stomach area if you carry extra weight post-pregnancy.
When possible, try to look for clothes that flatter your new shape, such as wrap dress, v-neck tops with empire skirts, and soft cut trousers. They will emphasize your post-baby figure without drawing too much attention away from caring for a newborn, which can be tiresome even at the best of times! Cardigans are always fashionable and fit perfectly over nursing tops without losing shape, making a viable choice for easy day-to-evening wearability.
Ultimately, it will come down to individual preference. So, make sure to select comfortable postpartum outfits according to the best style choices that reflect your personality and sense of style – even if it takes trying different items until you find something perfect!
Specific Outfit Ideas: Comfortable Tops
Comfortable tops are an essential aspect of postpartum attire, particularly for new moms. You must feel comfortable during this time. But having breastfeeding-friendly clothes is also an important factor to consider as well.
If your clothing is too tight or restrictive, it can make breastfeeding difficult for you and your baby. Look for clothing items such as flowy blouses and oversized t-shirts that provide plenty of room for lactation. You can even find nursing-friendly tops with discreet openings or panels built into the design, making breastfeeding much more effortless.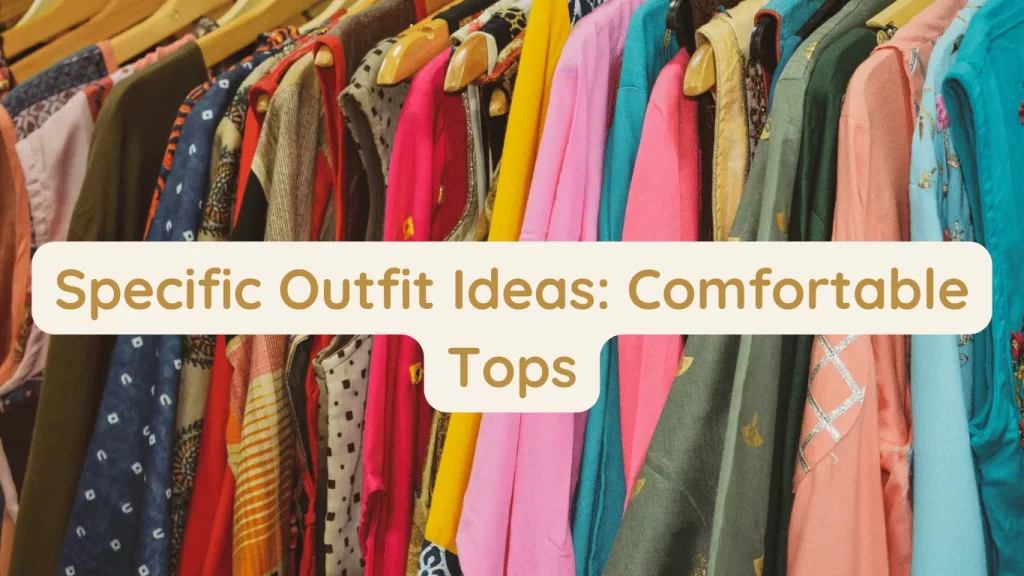 Tunics are also ideal postpartum tops as they fit a bit looser than a regular-sized shirt while still stylish. Look for tunics made from breathable fabric like cotton and jersey to ensure you're always comfortable wearing them. Additionally, short sleeve options are great during warmer months as they don't make you feel too hot while still helping to keep your figure covered up at the same time.
Basic tanks can also easily be dressed up or dressed down, depending on what type of look you're going for. Busty women should pay special attention to finding supportive undergarments besides their tops to ensure their breasts are adequately supported throughout the day. Outside of this, focus on pieces that flatter your shape and ensure that anything you purchase works with casualwear, like leggings or jeans, and dressier attire, like skirts or trousers. This way, you can mix and match pieces from your wardrobe depending on how dressed up (or down!) you want to go!
Specific Outfit Ideas: Bottoms
As a new mom, you should ensure that your clothing is comfortable and provides effortless movement. It is especially true postpartum when many women experience physical changes due to hormonal shifts and recovery from childbirth. The best bottoms for postpartum moms provide plenty of stretch with an adjustable waistband to allow an adjustable fit in different stages.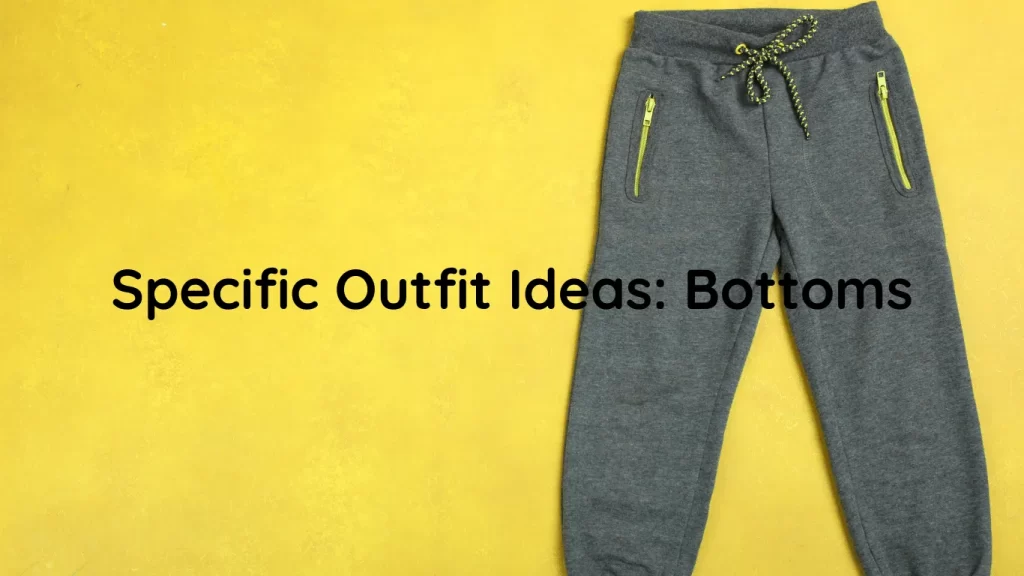 Here are some specific outfit ideas:
Leggings – Leggings are a great choice as they are comfortable, lightweight. They provide plenty of flexibility and movement. For an added stylish touch, look for high-waist leggings. You can pair them with oversized tops or jumpers.
Jeans – Look for jeans with a higher waistband and added stretch factors like elastane or Lycra. Avoid low-rise jeans, as the waistband can sit on the abdomen too tightly. Also, they can be uncomfortable when recovering from childbirth.
Skirts – Skirts provide a feminine touch but can also be comfortable and easy to wear during this time. Choose a soft A-line skirt or a wrap skirt. So, it won't feel too tight at the waistline but still allows freedom of movement during activities like sitting down or bending over.
Mix-and-matching tops, jackets, and accessories with these basic bottoms will create stylish outfits and feel comfortable for postpartum recovery!
Specific Outfit Ideas: Dresses
The options for new moms looking to flaunt their post-baby style are endless. From dates with the hubby to brunch or trips out of town, finding a go-to outfit that makes you look and feel amazing can be difficult. But with the right dress choice, you can always be camera ready and make your statement on motherhood.
Maxi dresses are effortlessly stylish and make it easy to dress on a busy day. Flowy silhouettes add shape and movement to your frame while also allowing plenty of room for breastfeeding access. With an array of necklines, patterns, colors, and prints, maxi dresses are sure to be one of your main wardrobe staples as a new mom.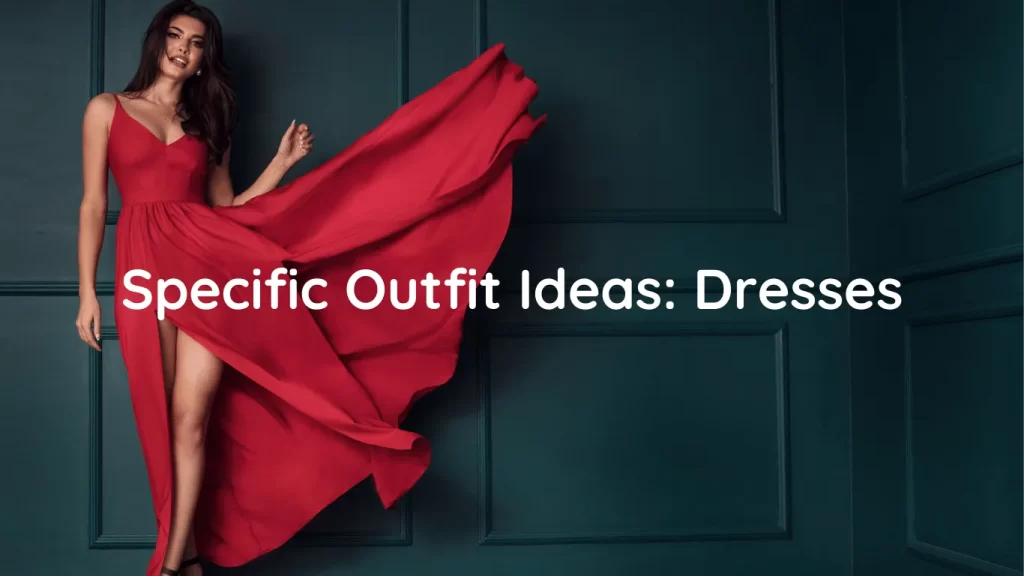 Wrap dresses make another great wardrobe option. They allow you to adjust the fit as needed – definitely essential for your postpartum body! Another plus is that many designs feature adjustable straps that provide easy access for those needing nursing. From bold prints to delicate embroidery detail, wrap dresses come in all shapes and sizes. So you are sure to find something that makes you feel beautiful.
Finally, nursing dresses provide full access for quick feedings while also keeping you looking chic! Whether it's solid colors or unique silhouettes like shirt dresses and wrap top designs, nursing pieces offer coverage when it counts. But remain tasteful enough for even more formal occasions like weddings or showers! With multiple buttons around the neckline for easy access, these pieces allow you to stay comfortable but still put forth effort into your outfit choices – perfect selection after baby!
Specific Outfit Ideas: Accessories
For a new mom, having the right postpartum outfit is essential. Depending on the time of your labor and delivery, you may or may not receive hospital attire. However, it's always great to have some other things you can feel comfortable in.
Accessories are a vital part of making any outfit look complete. The accessories for new moms should include items like nursing bras, postpartum underwear, and comfy shoes that give you adequate support as you walk around and take care of your newborn.
Nursing bras are one of the essential items for new moms. They can help provide support during postpartum and will also make breastfeeding easier. Make sure to look for items that are soft and supportive, such as those made from cotton or modal material with adjustable straps. Additionally, opt for wireless designs when available since those will provide more comfort without digging into your skin or putting additional strain on your back muscles.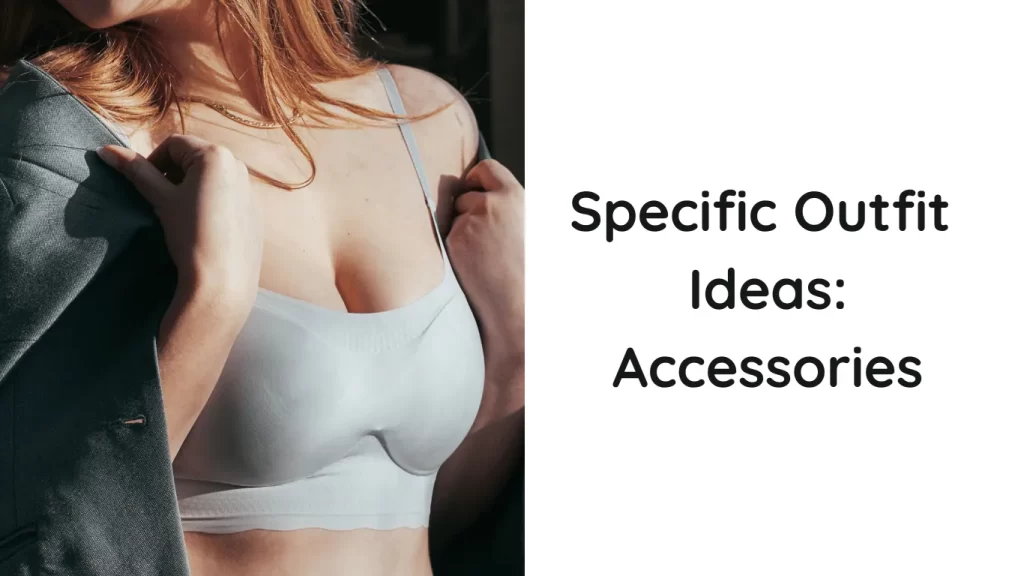 You should invest in good-quality postpartum underwear to prevent any irritation on your skin. Look for models that fit snugly against your body. So they won't slip down while caring for the baby yet remain soft and stretchy simultaneously. That way, you won't feel uncomfortable due to tightness or restriction around the waistline and leg openings.
Finally, ensure you have a few comfortable pairs of shoes. So your feet stay supported during long days spent walking around with the baby. Shoes made from canvas tend to work best since they provide adequate cushioning while still being breathable enough to ensure optimal comfort throughout the wear. Look specifically for ones with rubber outsoles. It provides additional grip when out and with the baby, even if there happens to be unexpected rain. So preparing ahead won't have compromising anyone's foot health
Conclusion
As a new mom, the whirlwind of emotions and experiences can make it challenging to manage your wardrobe. Having an outfit in mind for an occasion or just to feel great about yourself can be a small step that can make a huge difference in how you feel.
It's important to remember that postpartum fashion doesn't have to mean frumpy- you can look and feel great in stylish clothing that fits appropriately. This clothing should be comfortable enough to accommodate your many needs as a new mother. Investing in versatile, comfortable, fashionable pieces made of natural, breathable fabrics is critical to a successful postpartum wardrobe.
Your postpartum wardrobe should encompass both pieces that flatter your new body shape, are breastfeeding-friendly, and accommodate normal activities such as running errands or heading out with the baby.
Additionally, think about what outfits may work for special occasions like family photos or a baby shower celebration. Lastly, don't forget the power of accessories – they can transform an everyday look into one that is polished and chic! Good luck with finding the perfect outfits for your postpartum journey!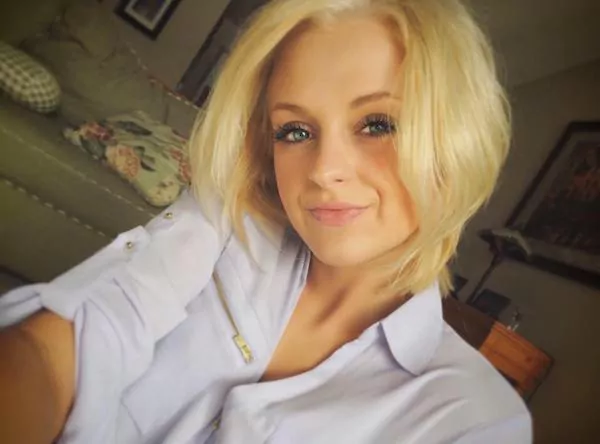 Born in Texas, Jennifer loves to spend time with her kids. Often, she shares her thoughts from the experience of being a mother. She focuses on surprising the Momoutfit readers with incredible information. Her vision is being a better mother, a visionary person.