You have finally made it through labor! It is exciting to head home from the hospital with your new baby finally. But what should you wear? Clothing after giving birth is often overlooked. But it is vital to have something comfortable to wear at home. Besides, you also want to look good.
Depending on the season and your style, many different types of clothes will be perfect for the ride home.
When choosing the best going home from hospital outfit for mom, there are a few things to consider.
The first is comfort. You want something that will be comfortable to wear, especially if you plan on spending a lot of time nursing your new baby.
The second is style. You want something that will make you feel good about yourself. Something makes you feel confident and stylish.
And finally, is functionality. You want something that will be easy to breastfeed. Something makes your parenting job simple with comfortable. Look for nursing tops or dresses with built-in nursing panels.
In this blog, you can learn some unique outfit ideas for leaving the hospital after birth to home.
Unique Mom Going Home from Hospital Outfit Tips
After giving birth, most new moms can't wait to get out of their hospital gowns and into their clothes. But with all the changes your body is going through, it can be hard to know what to wear.

A few tips are here to help you find the best going home from hospital outfit for mom:
Choose something comfortable
Remember, you have just been through a lot! The last thing you may love is to feel uncomfortable in your clothes. Choose something made from soft, breathable fabric that will not irritate your skin.
Pick something easy to breastfeed in
Whether you plan on breastfeeding or not, it is always good to have a top that you can easily nurse in. Look for a loose-fitting top with built-in nursing access (such as a tank with a built-in shelf bra).
Go for a flattering fit
hospitalized Can help you feel much better about yourself. After the baby, it can be easy to feel low self-esteem. Try to prefer an outfit that makes you feel good about yourself and accentuates your best features. Avoid anything that's too tight or has uncomfortable seams.
Think about what you will need for travel
For using a baby carrier, ensure your outfit will accommodate it. You might also want to pack a change of clothes in case your baby has an accident on the way home.
Invest in a good nursing bra
It will be your best friend during those early months of breastfeeding. Look for a style that is both comfortable and flattering.


What Should Moms Wear Coming Home from Hospital?
A few things to remember when choosing what to wear are comfort, easy access for nursing, and something that will make you feel good. After all, you did a fantastic thing and deserved to look and feel great!
The List of Clothes to Wear after Giving Birth
Here are a few of the best going home from hospital outfit ideas for moms:
A loose maxi dress
It is an excellent option because it is comfortable and easy to nurse. You will feel like a glamorous goddess.
Another ultra-comfortable option that will also be easy to nurse in. You could even throw on a cardigan or jacket if you feel cold.
A classic look never goes out of style. Make sure to choose a nursing t-shirt or one with a built-in nursing panel for easy access.
If you want something super cozy, joggers or sweatpants are the way to go. Just make sure they have a good fit. So you do not end up tripping over them!
A robe is perfect for those first few days at home when you want to lounge around and relax. You can easily slip it off for nursing or skin-to-skin time with your baby.
A kimono is a wonderful alternative to a robe. It can also double as a nursing cover-up.
It is a fantastic option for summer babies or if you live in a warm climate. Just make sure your tank top is nursing-friendly!
A sundress is the perfect outfit to wear home from the hospital in a summer day. It can easily be slipped off for nursing.
For dressing up a bit, a nice blouse and pants are a great option. Just make sure the blouse is nursing-friendly or has a built-in nursing panel.
A maxi skirt
A maxi skirt is a good option if you want to dress up a bit but still be comfortable. You could pair it with a nursing tank top or a casual blouse.
Whatever you choose to wear, make sure it makes you feel comfortable and confident. You have got this, mama!
Going Home from Hospital Outfit for Mom Winter
What to wear when you finally leave the hospital after having a baby? For winter, I recommend a cozy and practical outfit. Indeed they will keep you warm while chauffeuring a new bundle of joy around town.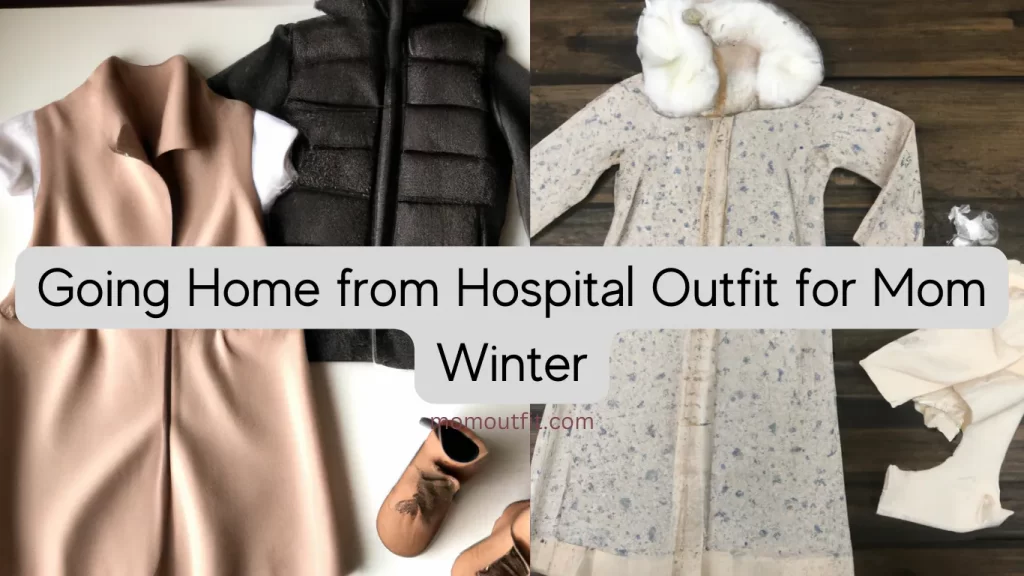 Going home from the hospital outfit for mom – winter edition
After you have a baby, you may want to get discharged from the hospital as soon as possible. But before leaving, you should figure out what clothes to wear home from the hospital.
Suppose you are having a baby in the winter. Then, you should consider the cold weather when choosing your outfit. You should also ensure that you are comfortable and that your outfit is easy to breastfeed in.
Here are some great options for going home from the hospital outfit mom for winter:
Option 1:
A warm coat
A Hat and scarf set
A nursing tops
Leggings
Boots
Option 2:
A cardigan
A long sleeve shirt or dress
Jeans or leggings
Boots or booties
Option 3:
A sweater dresses
Tights or leggings
Boots or booties
How to Keep Warm When You are a New Mom Going Home from the Hospital in Winter
As a new mom, any woman is bound to be excited about going home from the hospital and finally holding baby at home. But if you are going home in winter, you must ensure you are prepared for the cold weather. Some tips are here on how to keep warm when you are a new mom going home from the hospital in winter:
Wear layers
Are you a mom coming home from the hospital outfit winter? You will want to wear a few layers of clothing to keep yourself warm. A good combination might be a long-sleeved shirt or blouse, a sweater, and a coat.
Bring a blanket
A blanket can help you stay warm while you are holding your baby or when you are breastfeeding.
Use hand warmers
Hand warmers are great to keep hands warm when holding your baby or trying to do something with your hands in cold weather.
Drink warm beverages
Warm beverages will help keep your body temperature up and will also help relax you after a long day.
Take breaks inside
If it is too cold outside for you, take breaks inside where it is warmer. It might mean going into a store or restaurant while running errands or taking the baby inside while you rest for a few minutes.
Recommended Going Home Hospital Outfit for Mom:
Best clothes to wear home from the hospital after delivery:
How to Style a Post-Partum Body in Summer
After you have had your baby, you will want to leave the hospital in something comfortable, breathable, and easy to breastfeed in. A summer dress is a perfect solution! I have rounded up a few of our favorites to keep you cool, comfortable, and put together as you start this new chapter in your life.
You should not sacrifice your sense of style for comfort when you are a new mom.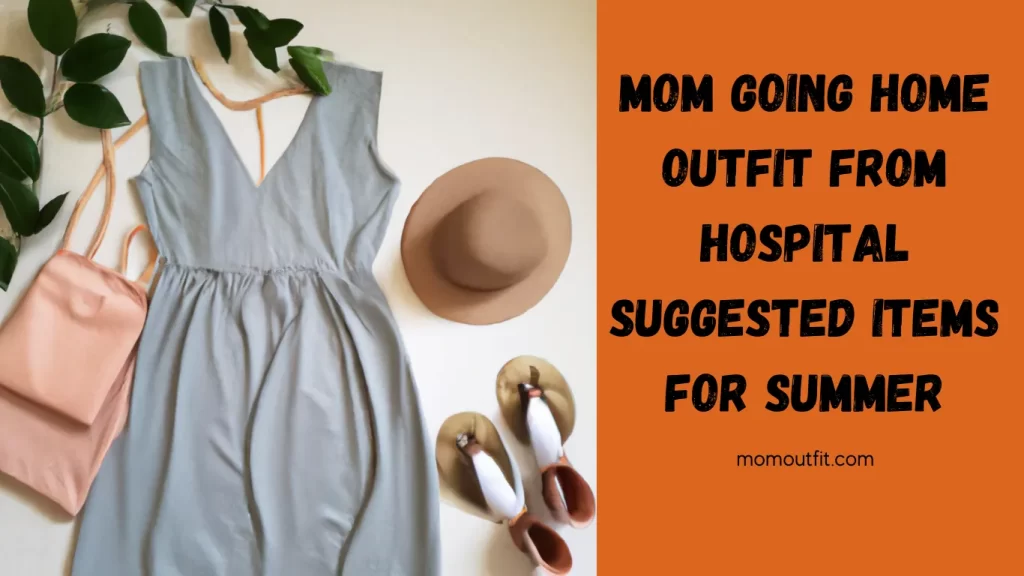 This summer, follow these tips to feel confident and comfortable in your post-partum body. These are perfect for going home from hospital outfit for mom summer.
Embrace your new curves
A post-partum body is something to be celebrated, not hidden away. Choose clothing that flatters your new shape and makes you feel beautiful.
Opt for comfort
I know you will be doing a lot of lifting, carrying, and nursing. So, comfort is vital. Look for items with stretchy fabrics and easy-to-use closures.
Dress for the weather
It is essential to stay calm and comfortable in the heat. So, choose lightweight fabrics and breathable styles.
Mom Going Home Outfit from Hospital Suggested Items for Summer
With the above guidelines in mind, here are some suggested items for mom coming home from hospital outfit summer:
A loose-fitting sundress
A dress is a perfect option for a hot summer day. It will keep you cool. Again, you can easily be pulled up or down for nursing access. Look for a style with a built-in bra or plenty of stretch for extra support.
A tank top and shorts
A basic tank top and shorts set are essential for any new mom's wardrobe. It is comfortable and easy-going to nurse in. Also, they can be dressed up or down as needed. Choose a tank with built-in support or layer over a supportive nursing bra as needed.
A maxi dress
It is always a good choice. It is comfortable, flattering, and easy to nurse in. Look for one with a built-in bra for extra support.
A denim skirts
A denim skirt is always a good alternative. Many styles work well for new moms. Look for a skirt above the knee to easily move and bend as needed.
A pair of shorts
A comfortable pair of shorts is essential for any new mom's summer wardrobe. Grab a pair with an elastic waistband that will accommodate your changing body shape.
How to Beat the Heat in Summer with a Post-partum Body
There's no getting around it — giving birth is tough on your body, and post-partum recovery can be even more arduous. Add the summer heat to the mix. And you have a recipe for some seriously uncomfortable days (and nights). But do not despair — with some planning, you can stay cool and comfortable all season long.

The key to beating the heat is dressing in layers that can be easily removed as the temperature rises. For example, a tank top or t-shirt paired with a light cardigan or kimono. It is a great way to stay cool while still being covered up. And if you want to avoid the dreaded post-partum thigh chafe, choose a pair of shorts or a skirt that hits mid-thigh or above.

Natural fibers like cotton and linen are your best bet — they are lightweight and breathable. So they will not make you feel trapped in a sauna. And if you start feeling overheated, do not be afraid to ditch the layers. It is better to be comfortable than to overheat and risk hurting yourself or your baby.

Finally, do not forget the sunscreen! Even if you are mostly indoors, it is crucial to protect your skin from the sun's harmful rays. Select a broad-spectrum sunscreen having an SPF of at least 30. Then, apply it liberally before heading out into the heat.
What You Should Not Wear for Going Home from Hospital Outfit for Mom
After giving birth, every mother is eager to get out of the hospital and return home with their baby. But before you do, ensure you are prepared with the right outfit. A few things are here to avoid wearing when going home from the hospital:
Avoid anything constricting
You will probably be bloated and uncomfortable after giving birth. So, please do not make things worse by wearing something tight. Instead, opt for something loose and comfortable, like a maxi dress or yoga pants.
Avoid high heels
You will be exhausted after giving birth. So, you may want to move around in high heels. Stick to flats or sneakers so you can move around easily.
Avoid anything that will make you hot
You will already feel hot and sweaty after giving birth. So, avoid clothing that will make you even hotter. Stick to light, breathable fabrics like cotton.
Avoid anything that will show sweat stains
Again, you will be sweating after giving birth, so avoid anything that will show sweat stains. Opt for dark colors or patterns that will disguise any sweat marks.
Avoid anything challenging to put on or take off
You may rush to get out of the hospital. Also, you will not have time to fiddle with buttons or zippers. Stick to easy-to-wear clothing like slip-on dresses or pull-on pants.
Final Words
In conclusion, it is important to consider the comfort, style, and functionality of going home outfit for mom after birth.
Many types of clothing will work well, depending on the time of year and your style. Consider a loose-fitting dress, leggings, a tunic top, jeans, and a nursing-friendly t-shirt.
Remember to layer clothing in winter. Also, try to choose natural fibers that will not make you overheat in summer. And do not forget the sunscreen!
With some planning, you can find cute going home from hospital outfits. Happy Parenting!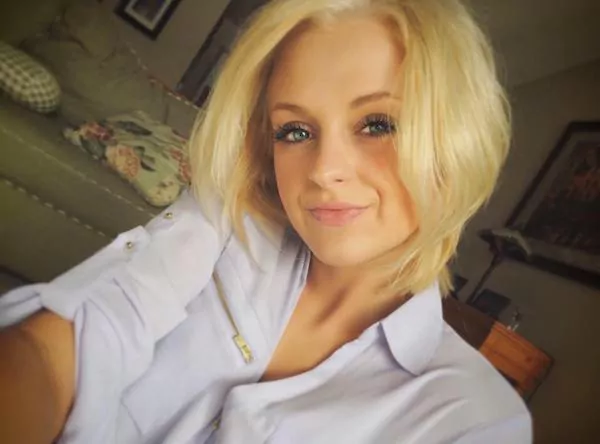 Born in Texas, Jennifer loves to spend time with her kids. Often, she shares her thoughts from the experience of being a mother. She focuses on surprising the Momoutfit readers with incredible information. Her vision is being a better mother, a visionary person.