Hello lovely ladies! Are you expecting a bundle of happiness and wondering what the best maternity date night outfit should be? I know the importance of feeling confident and beautiful for preggos. Dressing up for a date night can be daunting, but fear not! I'm here to help you look your best on a date night.
Shopping for the perfect date night outfit for mothers can be an exciting yet daunting experience. Many women wonder what style would look best on their changing bodies. Also, many will reflect if there is even something flattering enough with the ever-shifting bump.
As you have come to MomOutfit, you won't be left without any gift. In this blog, I provide some essential tips on finding the proper clothing to make your date night look fashionable and comfortable. These tips may make your looks more attractive and unique than others.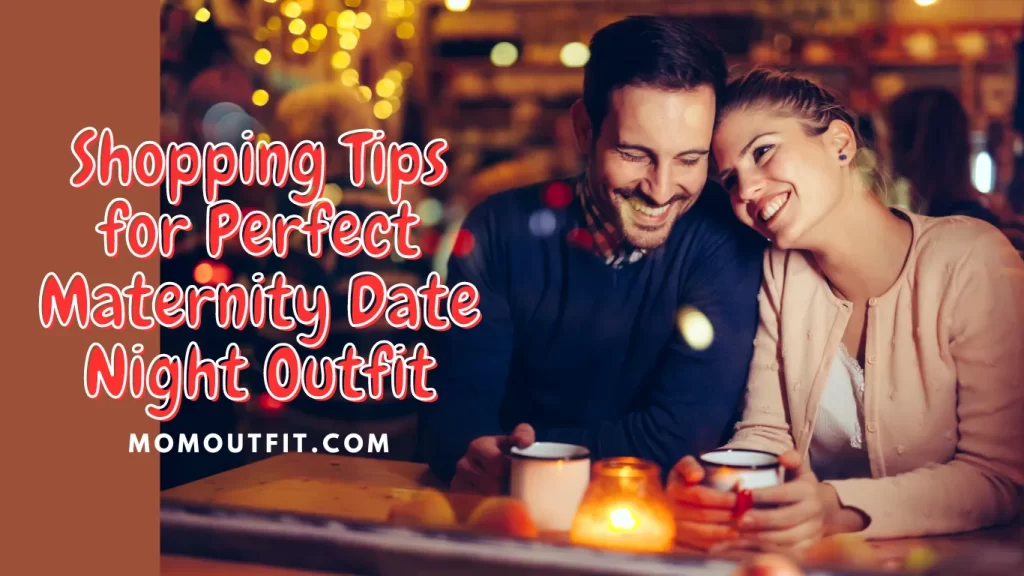 Why Do You Need a Specific Maternity Date Night Outfit?
You need a specific maternity date night outfit because your body constantly changes during pregnancy. Most importantly, what may have fit you a few weeks ago may not work as well now.
The outfits for maternity dates provide the necessary comfort, support, and flexibility to accommodate your growing bump. Indeed, it is vital when going out on a date night.
If you wear regular maternity clothes, they can be uncomfortable, unpleasant, and unfit for the party. But wearing a romantic date maternity outfit will make you feel confident, beautiful, and put-together on your date night. After all, it is essential for your mental well-being during this exciting yet challenging time.
Here's what you should start thinking about:
Knowing what your wardrobe needs are should be your priority before shopping. Do you need new dresses, blouses, or jeans? Having a clear idea of what specific items of clothing you're looking for will help narrow your search and save time at the store.
Determining what styles would work best with your changing silhouette is also critical. Depending on where you're at in your pregnancy, many cuts and patterns won't be as flattering as you'd expect them to be. So, take this into account when shopping.
Understand Your Body
Our body goes through numerous changes during pregnancy. Knowing what clothing styles will flatter your changing shape can be challenging. So, you should understand your body type and which styles work best to feel comfortable and confident.
I suggest you start by recognizing your current size and shape and note which areas have changed the most. For example, some women may notice a larger bust, a wider waist, or a more prominent bump. From there, you can choose styles that flatter your body type and make you feel beautiful.
Let's say wrap dresses, flowy maxi dresses, and empire waist tops are great for accentuating your bump while providing comfort and support.
Note that you should not be afraid to experiment with different styles and sizes until you find the perfect fit that flatters your beautiful baby bump.
Determining Your Style
Maternity clothing styles have changed drastically over the years. Now you can find a vast array of options to meet the demands.
Before you start shopping for maternity clothes, it's essential to determine what style you want.
Do you prefer something more classic and timeless? Or maybe you are looking for something trendier and on-trend. Consider what type of look makes you feel most comfortable and confident in your skin.
The most important thing to remember when shopping for a date night outfit is that comfort comes first. Look for pieces that flatter your body's shape and provide the flexibility and freedom to move around without restriction or worry.
Avoid squeezing into clothes too small in size just because they seem stylish. Instead, look for something with looseness or stretch to be more comfortable to wear overnight.
Soft jersey fabrics, side panels/slouchy fits are all great options. They will keep you looking good while feeling comfortable!
Think about accessorizing with statement jewelry, coordinating purses/clutches, scarves, or stylish wrap jackets. All these can take your outfit from simple to extraordinary!
Lastly, dress up your look by adding flattering basics, such as layering tanks underneath sweaters or blouses over slim-fitting trousers.
Remember not to forget to choose something stylish but appropriate for whatever activity/ restaurant you're attending; think: dressy but not too business-like!
Choosing the Right Fabric
The suitable fabric can significantly affect how comfortable you feel throughout the night. Remember, being comfortable in your clothing is critical to feeling confident and beautiful on your date night.
Pregnant women should look for fabric materials that are soft, comfortable, lightweight, breathable, and stretchy. Natural fabrics like cotton, bamboo, and linen can offer comfort and a snug fit. They are soft, gentle on the skin, and allow proper airflow to accentuate your body shape well.
You should ensure that their chosen fabric is suitable for machine washing for better longevity of the outfit. Darker hues can typically be dyed in cold water or washed peacefully. Alternatively, lighter colors may require hand washing or dry cleaning.
You may also wear stretchy fabrics that accommodate your growing bumps, such as spandex or elastane blends.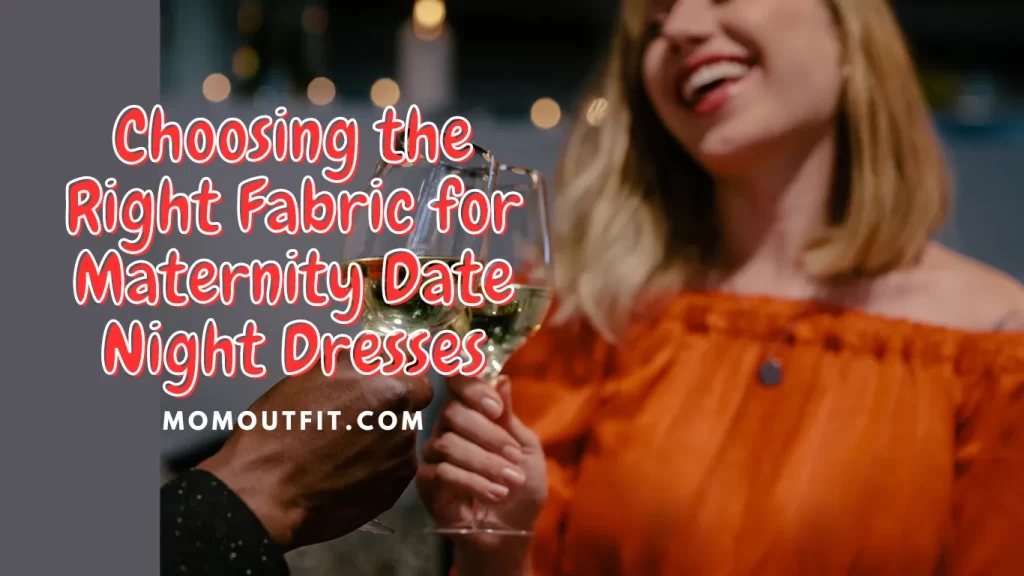 Consider the Occasion
You should not forget the occasion as it connects with maternity dinner date outfits. Always prioritize comfort and style when selecting your maternity night-out outfit, regardless of any event.
Consider choosing a dressier outfit, such as a chic jumpsuit or a flattering cocktail dress, for a fancy dinner or a night out. Besides accommodating your bump, these outfits will make you look glamorous.
For a casual date night, you may opt for more relaxed attire, such as a comfortable maxi dress or stylish maternity jeans paired with a cozy sweater.
It's important to remember that you can dress up or down any outfit to suit the occasion. So, don't be afraid to play around with different styles until you find the perfect fit.
Accessories for the Perfect Look
Once you've gathered your basics, start thinking about how to accessorize. Maternity clothing can lack that special spark. You need a candlelight dinner with your partner. So, accessories are a great way to add some originality and "dress up" the essential pieces you may have chosen.
Think of textures and layers like scarves or cardigans instead of statement jewelry pieces. You don't need to upgrade your jewelry when on a budget!
Jewelry Items
Consider pieces that will complement your outfit and make you feel confident. For example, statement jewelry such as chunky necklaces or oversized earrings can add a touch of glam to a simple dress or blouse.
Look for delicate pieces in complementary colors that won't compete with or distract from the main elements you've chosen for your maternity date night dress.
However, add accessories that play up any jewelry you already own. But don't overwhelm yourself by over-accessorizing – less is more!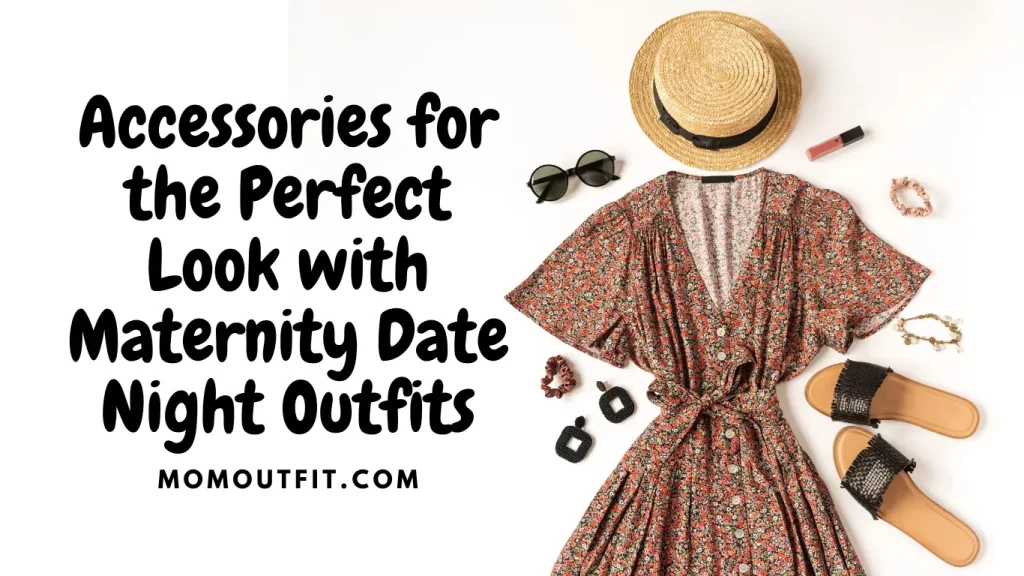 Scarves
Scarves offer an interesting new addition to an otherwise plain outfit, such as a beautiful chiffon v-neck in summery colors for warm date nights. You may also add a touch of style and color with a stylish scarf in a beautiful hue or fun pattern. So, highlight your bump by tucking the scarf at the sides, and let it hang evenly to frame your midsection.
Hats
Hats draw attention away from any parts of your body that may feel uncomfortable for date night. In that case, you may wear a floppy hat or fedora to add interest.
Belts
belts are all ways in which you can create an inexpensive yet ultra-glam look. Wide belts are perfect for cinching non-maternity pieces at the waist and instantly giving them more shape.
Handbags
Accessorize with an elegant clutch or stylish handbag that adds just the right amount of sparkle to finish off your look without overpowering the beauty of your pregnant figure. Select one in a complementary color or one with a contrasting shade for added pop.
Overall, maternity date night outfits should be explicitly tailored to your individual style preference. There is no wrong way to dress during pregnancy. If one of your go-to basics just doesn't fit anymore, use it as an opportunity to get creative and find something fun or unique to wear.
Planning for Comfort – Not Only for Maternity Date Night Outfits
Planning for the next days is the best way to ensure a successful maternity date night outfit. Consider pieces that will work both during and after pregnancy. Clothing accommodating your changing size and shape will be more comfortable and versatile.
Choose lightweight, breathable materials, and forgo any constricting fits or styles. Please, take the time to read through customer reviews or consult with experts who have firsthand knowledge of fit and comfort.
Compare various prices from different stores instead of just settling on one item to find quality pieces at the best value.
Once you have some items you like, try them to determine how they look and feel before purchasing them. It will help prevent any uncomfortable surprises once you've made your purchase.
With these tips, you should be well-prepared for your next date night!
Shopping for the Perfect Fit
Finding the right fit is vital when shopping for maternity clothing, especially for special occasion wear such as a date night outfit. With that in mind, some tips are here to find the best fit for your pregnancy:
Get measured
Before heading out to buy a maternity outfit, it's recommended that you get fitted by a qualified seamstress or maternity shopkeeper. It will help you know your exact size measurements. Knowing your actual measurements will come in handy if there are not enough options in store for you to try on.
Try garments on
Try on the items before buying to ensure they fit correctly. They should provide enough space around the stomach area. Go up sizes as necessary since pregnant bodies change quickly, and garments that fit near the end of one trimester may not be comfortable during the next.
Make adjustments
If available, look into getting tailor-made clothes. Also, use adjustable or stretchy apparel that can be modified easily using strings or straps.
Staying Within Your Budget
Many mothers look for date night outfits that may cost more than others. But it is always better to stay within your budget.
First and foremost, decide precisely how much you are comfortable spending on this item. Consider budgeting for clothing and accessories. After all, the accessories such as shoes and jewelry can help complete the look.
There are lots of great options available at a variety of prices. So, start by researching different brands and their price range first. It will narrow down your choices right away.
Think about which items can be worn afterward or during other occasions. Things you should wear that should give you more bang for your buck. Also, they should make the most out of your money spent.
Before you make a purchase, remember to work with what you have at home already. Consider what pieces from your existing wardrobe may pair well with those new items that you plan on buying.
Making small investments in quality over quantity is another great way to save money without compromising style and quality!
Shop Online & In-stores
It's good to keep your options open and shop online and in-store to buy maternity clothes for romantic dates.
Shopping online can be convenient as you can browse various options from the comfort of your own home. Many online retailers also offer easy returns, which can be especially helpful when finding the right fit.
However, knowing how a garment will fit your changing body can be challenging without trying it on first. That's why it's also a good idea to visit physical stores where you can try on clothes and see how they fit in person.
By shopping in-store, you can better understand how a garment looks and feels on your body. Also, you can get personalized advice from sales associates specializing in maternity fashion. Moreover, you can touch and feel the fabrics and try on different styles to see what suits you best.
Combining online and in-store shopping can help you find the perfect outfit, meeting style preferences, comfort needs, and budget.
10 Ideas for Maternity Date Night Outfits
This section gives you ten ideas for pregnant date night outfits that are comfortable, stylish, and perfect for any occasion.
Maxi Dress and Denim Jacket: Choosing a maxi dress is a comfortable and stylish option for a date night. Pair it with a denim jacket to add some edge to your look.
Jumpsuit: A jumpsuit is a one-piece outfit that is comfortable and easy to wear. It's perfect for dinner or a night out with your partner.
Wrap Dress: A wrap dress is a timeless classic that flatters your growing bump. Choose a patterned wrap dress to add some personality to your outfit.
Maternity Jeans and Blouses: Maternity jeans are designed to accommodate your growing bump and provide comfort. Pair them with a blouse for a casual yet chic look.
Off-the-shoulder Dress: Show off your shoulders in an off-the-shoulder dress that's comfortable and perfect for a night out.
Maternity Leggings and Tunic: Maternity leggings are comfortable and versatile. Pair them with a tunic for a casual yet put-together look.
Maxi Skirt and Tank Top: A maxi skirt is comfortable and versatile. Pair it with a tank top for a casual yet stylish look.
Bodycon Dress: Show off your curves in a bodycon dress that hugs your bump in all the right places.
Oversized Sweater and Leggings: An oversized sweater is cozy and comfortable. Pair it with leggings for a casual and relaxed look.
Maternity Blazer and Dress Pants: A blazer and dress pants are perfect for a formal dinner date. Choose maternity versions of these pieces for added comfort.
Conclusion
In short, finding the perfect maternity date night outfit requires a bit of planning and effort, but it's well worth it. If you follow my essential shopping tips, you can find an outfit that makes you feel comfortable, confident, and beautiful on your date night.
Always prioritize comfort and choose fabrics that feel gentle and breathable on your skin. Also, consider the occasion and dress accordingly, whether it's a fancy night out or a casual dinner.
Add some accessories to make all the difference and make you feel glamorous. Again, ensure to try on different sizes and styles, both online and in-store, until you find the perfect fit.
I hope you loved reading the blog. I wish you an exciting pregnancy date ahead!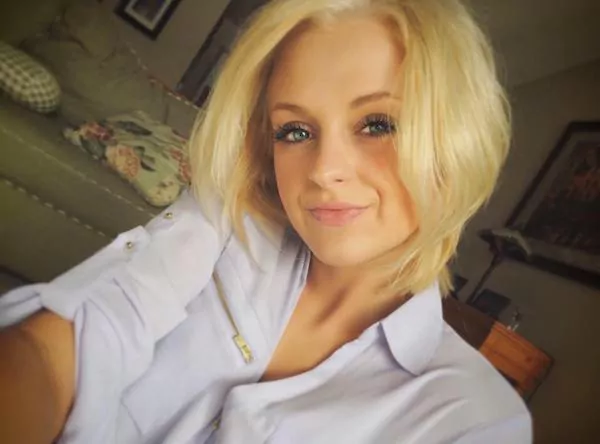 Born in Texas, Jennifer loves to spend time with her kids. Often, she shares her thoughts from the experience of being a mother. She focuses on surprising the Momoutfit readers with incredible information. Her vision is being a better mother, a visionary person.