A maternity bra is designed to support women's breasts during pregnancy. Also, the women busy in nursing can wear these unique bras. Typically, these bras are made of breathable materials. They have extra support to accommodate the weight gain of the breasts. So, what to look for in a maternity bra when you need one?
Well, there is no one perfect maternity bra out there. It depends on your body shape and preferences. Few key things to keep in mind when shopping for a maternity bra.
First, make sure to get fitted by a professional to ensure you get the right size.
Second, look for bras with adjustable straps and bands to adjust as your body changes.
Finally, choose a comfortable style that you will want to wear – because, let's face it, you'll be wearing it a lot!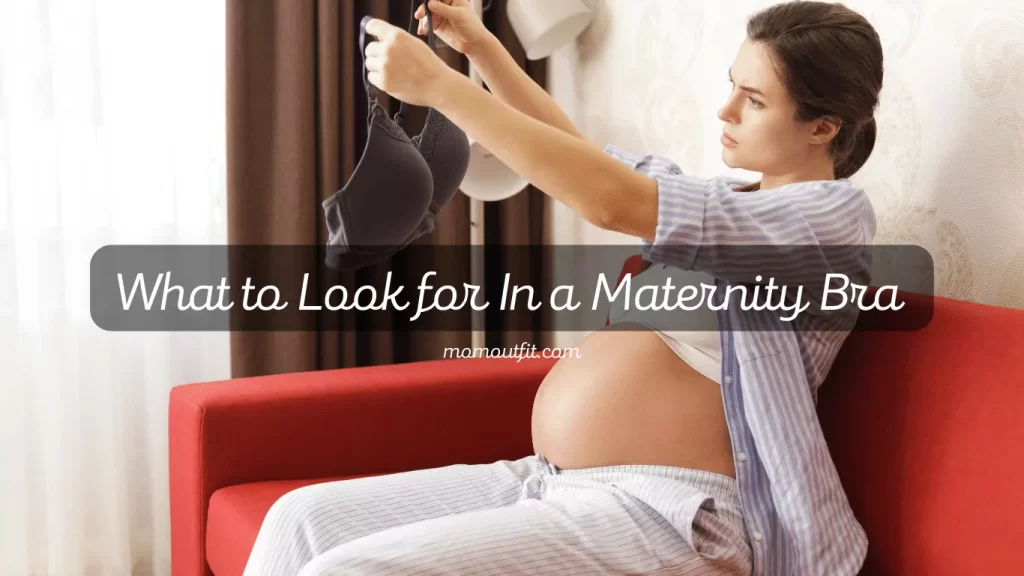 Many women find that maternity bras are extra comfortable than regular bras during pregnancy. If you are pregnant or nursing, you know how vital a good maternity bra is. But with all the choices out there, it can be hard to know which one is right for you. In this blog post, I will help you choose the best maternity bra for your needs, whether you're looking for support, comfort, or style.
Also, this blog will provide an overview of the different types of maternity bras. Also, you will get tips on how to choose the right one.
The Different Types of Maternity Bras
Each woman's body is different and will change differently during pregnancy and breastfeeding. However, some general types of maternity bras can be helpful for many women.
Traditional maternity bras are designed to support your breasts during pregnancy and nursing. They usually have full coverage cups and wide straps for extra support.
Underwire bras can be a good option for women who require more support during pregnancy. These bras usually have cups that can accommodate growing breasts. Again, some styles even have unique panels to support the belly.
Soft-cup bras are suitable for women who find underwire bras as discomfort. These bras often have more adjustable straps and band sizes to accommodate changing bodies.
Sports bras can be viable for active women who want extra support during pregnancy. These bras often have wide straps and a band under the belly to support the growing belly.
Nursing bras are designed specifically for nursing mothers. They have special flaps or clips that allow easy access for nursing. Again, some styles have special padding to protect against leaks.
Convertible bras can be worn as traditional or nursing bras. They have removable straps that can be worn in diverse ways.
Bralettes or bralette bras are a more stylish option for pregnant and nursing mothers. They offer less support than traditional or nursing bras but are more comfortable and allow you to show off your beautiful curves.
No matter what type of maternity bra you choose, make sure it fits well and provides the support you need.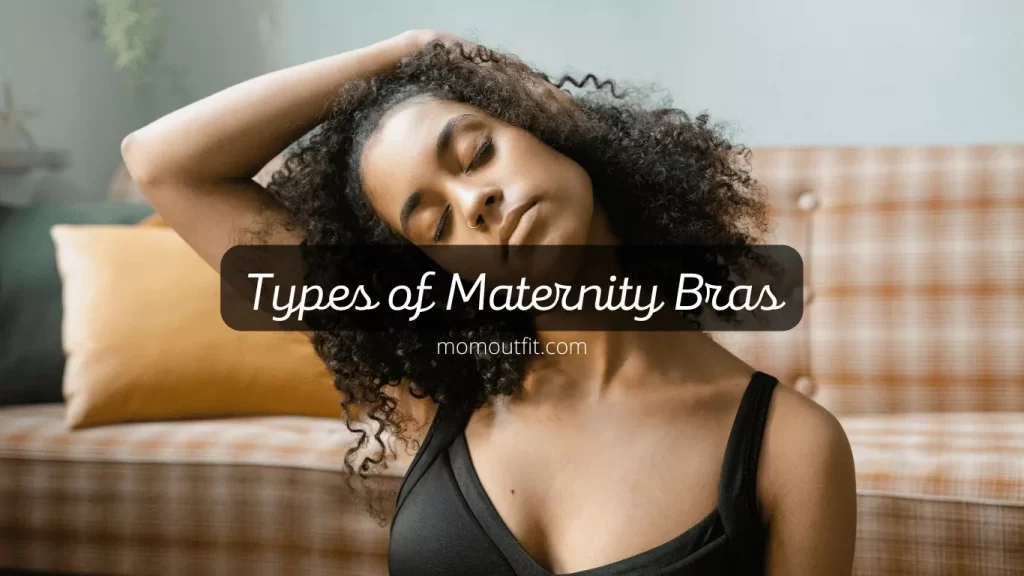 You may love to read another post: How to Turn Maternity Jeans into Regular Jeans
The Importance of a Maternity Bra
Why should you prefer maternity bras instead of regular bras?
Your body certainly goes through some significant changes during pregnancy. Similarly, your breasts are no exception. They may grow larger to their cup size and become more sensitive and tender. It can make finding a comfortable, well-fitting bra a severe challenge.
Here are a few reasons why a maternity bra is so important:
Maternity Bras are Supportive
A good maternity bra will offer ample support for your boobs in the first trimester and a long way. It is crucial for extra comfort and breast health. Breasts without generous support can lead to problems, including back pain, neck pain, and even headaches.
They Provide Comfort
A maternity bra is always comfortable, even when your breasts are at their largest. You may get more from bras with padded straps and a wide band. So they will not dig into your skin.
They Refer to Flexibility
Maternity bras with removable pads or cups are very much flexible to use. You can adjust the fit as your breasts change.
They Help in Nursing
If you plan to breastfeed, look for a maternity bra. It will create easy access for nursing. Also, you will be thankful for this feature when you are trying to discreetly nurse your new baby in public.
Compatible with Your Style
Maternity bras are not frumpy. Instead, you get many stylish options. They will make you feel good about your appearance.
If you are pregnant or nursing, a maternity bra is a must-have. Do not wait until you are uncomfortable to start shopping for one. Again, it is best to get fitted by a professional to select the perfect bra for your unique body.
What to Look for When Purchasing a Maternity Bra
Maternity bras are a vital part of a pregnant woman's wardrobe. But, it can be not easy to know which one is right for you with so many options on the market. When bra shopping during pregnancy, you can remember these points:
Size Matters
Your breast size will increase during pregnancy, so getting a bra that fits comfortably from the start is vital. Do not try to squeeze into a smaller size in hopes that it will last the entire pregnancy. You will be much more comfortable (and supported) in a properly fitted bra.
Support is Key
A good maternity bra will offer plenty of support, which is crucial as your breasts become heavier and more sensitive during pregnancy. Look for bras with wide straps and full-coverage cups to keep you comfortable and supported all day long.
Want to know How Does a Belly Band Work?
Consider Lifestyle
If you are active, you'll want to look for a maternity sports bra that offers the same level of support as your regular sports bras. A comfortable cotton bra may be all you need if you are more homebody.
Do not Forget About Style
You do not need to sacrifice style if you are a mother-to-be. Pick the right one that best matches your style.
Shop Around
With so many postpartum bra options available, it is vital to shop around to find the right one for you. Try on a few unique styles and sizes to find the perfect fit and level of support.
Comfort is Prior
A comfortable maternity bra is necessary – you will be wearing it a lot! Look for bras made from soft, breathable fabrics and with a design that will not dig into your skin.
Versatility is Good
A versatile maternity bra can be worn during pregnancy and breastfeeding. Look for bras with nursing clips or straps that can be easily removed for feeding.
Price is Essential
Maternity bras can be a bit pricier than regular bras, but they are worth the investment. Look for sales or coupons to get the best deal.
Your body goes through many changes when you are expecting, including your breasts. You may find that your breasts become larger, heavier, and more sensitive during pregnancy and breastfeeding. So, it's important to make sure you're wearing a supportive and comfortable maternity bra.
Essential Tips to Look in Maternity Bras
Are you pregnant and feeling overwhelmed by all your body's changes? You are not alone.
One of the biggest changes to your breasts is growing several cup sizes during pregnancy and breastfeeding. After all, a good maternity bra will support your breasts, help prevent back pain, and make you feel more comfortable.
But with so many choices, how can you figure out the right one for you? Here are a few tips for finding the perfect maternity bra:
Get Fitted by a Professional
Your bra size will change during pregnancy. So, it is important to get fitted regularly. A professional bra fitter can help you find the right size and style for your changing body.
Look for a Bra with Good Support
Your breasts will be heavier during pregnancy and breastfeeding. So it is essential to find a bra with good support. Check out the mommy bras with wide straps and a wide band under the bust.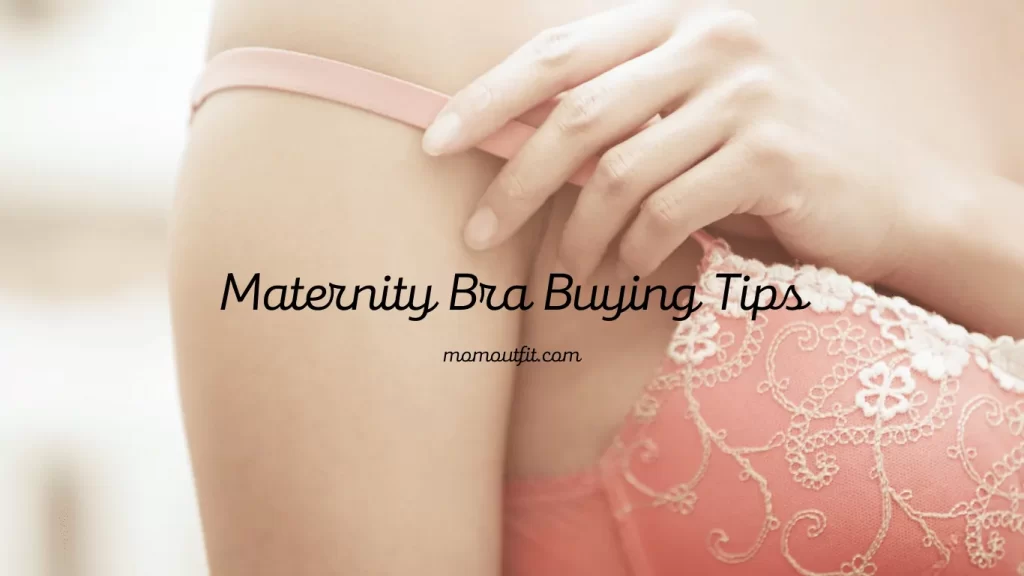 Avoid Underwire Bras
During pregnancy, your breasts can be sensitive and tender. Underwire bras can aggravate this, so it is best to avoid them.
Choose a Comfortable Fabric
You may be more sensitive to certain fabrics during pregnancy and childbirth. Choose a soft, comfortable fabric that will not irritate your skin.
Think About Style
There are many cute maternity bras on the market. Find one that you feel good in and makes you feel like yourself.
How to Care for Your Maternity Bra
Or how should you care for maternity nursing bras?
Here are some tips on how to care for your maternity bra:
Wash Your Maternity Bra Regularly
Your pregnancy bra needs to be washed regularly to keep it clean and fresh like any other bra.
Check the Fit Daily
Your body is constantly changing during pregnancy. So, it is essential to check the fit of your maternity bra regularly. If it starts to feel too tight or loose, it is time to adjust the straps or get a new bra.
Avoid Wearing the Same Bra Every Day
Give your bra a break by wearing assorted styles on different days. It will help your bra last longer and keep you more comfortable.
Store Your Maternity Bra Correctly
When you are not wearing your bra, make sure to store it in a cool, dry place. Avoid dropping it in a hot car or direct sunlight, damaging the natural fabrics.
You can keep your maternity bra in decent shape by following these tips. Additionally, you can get the support you need during pregnancy.
Conclusion
There are diverse types of maternity bras on the market. So, it can be tough to know which one is right for you. However, by researching and trying on distinct types, you can find the perfect maternity bra for your needs. Indeed, they will suit your needs like extra support, a comfortable fit, or a stylish option.
I hope you get what to look for in a maternity bra from this article. Leave a comment if you loved this post.
I invite you to read another blog post: Maternity Jeans Vs. Belly Band – Which One is Better?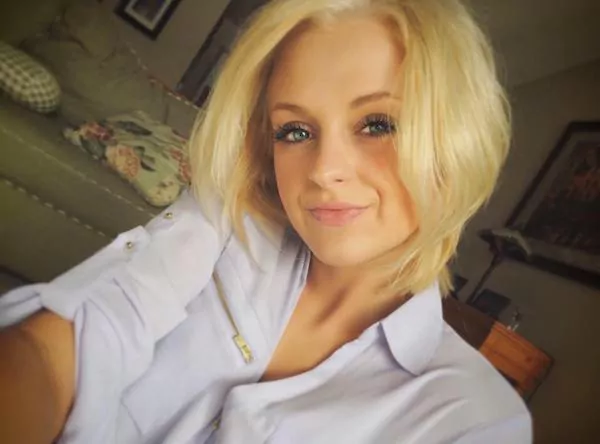 Born in Texas, Jennifer loves to spend time with her kids. Often, she shares her thoughts from the experience of being a mother. She focuses on surprising the Momoutfit readers with incredible information. Her vision is being a better mother, a visionary person.