You might wonder, "Are high-waisted leggings good for pregnancy?" Absolutely, these leggings are super trendy and incredibly comfortable. Many mothers consider them a must-have in their wardrobe. In this blog, I will discuss these high-waisted leggings and why you should wear them.
The high waist design of these leggings provides excellent support for your growing belly. So you get an extra boost of comfort. Plus, they are made from stretchy and soft fabrics that adapt to your changing body shape. It allows you to move freely without any restrictions.
But that's not all! These leggings are also versatile. Also, pair them with your favorite maternity tops, tunics, or dresses. They are perfect for any occasion, whether heading to a prenatal yoga class, running errands, or simply lounging at home.
Now, explore the wonders these leggings offer and unlock the key to feeling fabulous throughout this extraordinary blog post.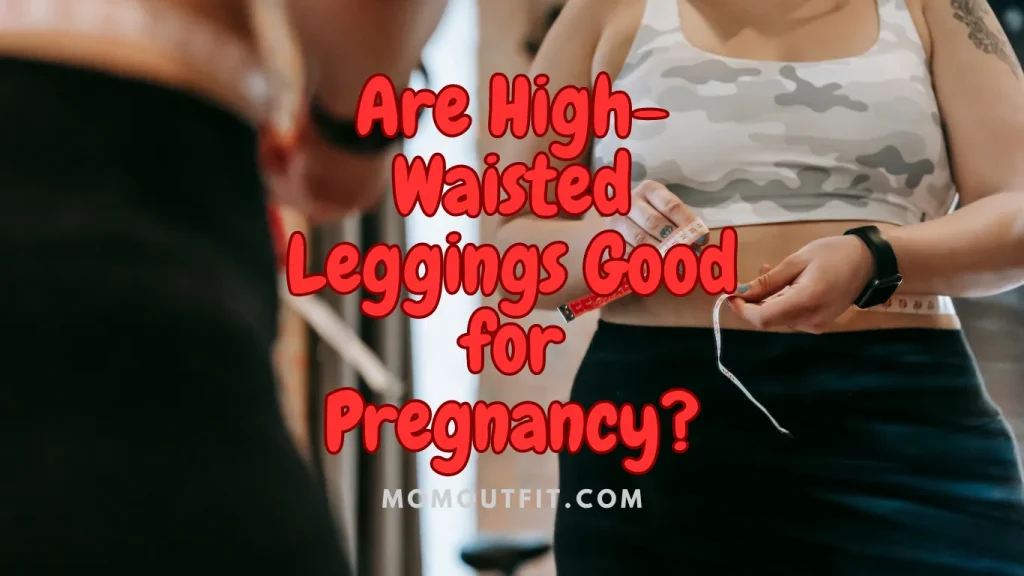 Understanding Pregnancy Fashion Needs: High-Waisted Leggings
Let me share with you something from my experience. As my belly grew and my body transformed, I get found the perfect combination of comfort and style. Little did I know that these leggings would become my trusty sidekick throughout the entire journey.
Just imagine a soft, stretchy fabric gently hugging my growing belly. It supported me with free movement. Likewise, it felt like wearing a second skin that embraced and celebrated my changing body. Gone were the days of struggling with uncomfortable waistbands or compromising on fashion.
These high-waisted leggings became my fashion sanctuary. I could dress them with a flowing maternity top for a chic and effortless look. Or I could pair them with a comfy oversized sweater for those cozy nights. No matter the occasion, these leggings never failed me.
But what truly amazed me was the confidence boost they gave me. These leggings became a symbol of embracing my pregnancy journey. They made me feel beautiful and empowered. Besides, they made me recall that fashion and motherhood could coexist harmoniously.
Now, I want to share the critical aspects of pregnancy fashion and why it matters:
Embracing Comfort
During pregnancy, your body works hard to nurture and grow a tiny human. Comfort becomes paramount. Additionally, clothing choices should support your changing body. Soft, stretchy, and breathable fabric can change your feelings throughout the day.
Accommodating Growing Belly
Your belly is expanding, and finding clothes that adapt to its size is crucial. Maternity high-waisted leggings provide the much-needed room to accommodate your growing bump comfortably. Also, the waistband sits comfortably above your belly.
Prioritizing Functionality
Your lifestyle might change in various ways as an expectant mother. Your clothing should be functional. So, it should help you to carry out daily activities with ease. Look for pieces that are easy to put on with adjustable features. You can wear them for different occasions.
Style and Self-Expression
Being a mother-to-be doesn't mean sacrificing the style. Pregnancy is a beautiful journey. Also, expressing yourself through fashion can be empowering. Seek maternity clothing that reflects your unique taste, whether trendy, classic, or bohemian.
Versatility for Different Stages
Pregnancy fashion needs to adapt to the different stages of your journey. Find clothing with features like adjustable waistbands or stretchy fabrics that can grow with you. This way, you can maximize the lifespan of your maternity wardrobe. Also, you can feel confident at every stage.
Benefits of High-Waisted Leggings for Pregnant Women
During pregnancy, high-waisted leggings provide a lot of benefits.
Wobblywalk says these leggings are "super versatile, comfortable, and figure-sculpting." So, you can remain confident while wearing them in any environment. Similarly, Gymwear praises these high-waisted leggings as "comfortable, durable, affordable, stylish."
If you love doing yoga, though you are pregnant, you can wear high-waisted leggings in every session. YogaLeggs also recommend them for a perfect yoga session. According to them, these maternity leggings can provide at least seven benefits.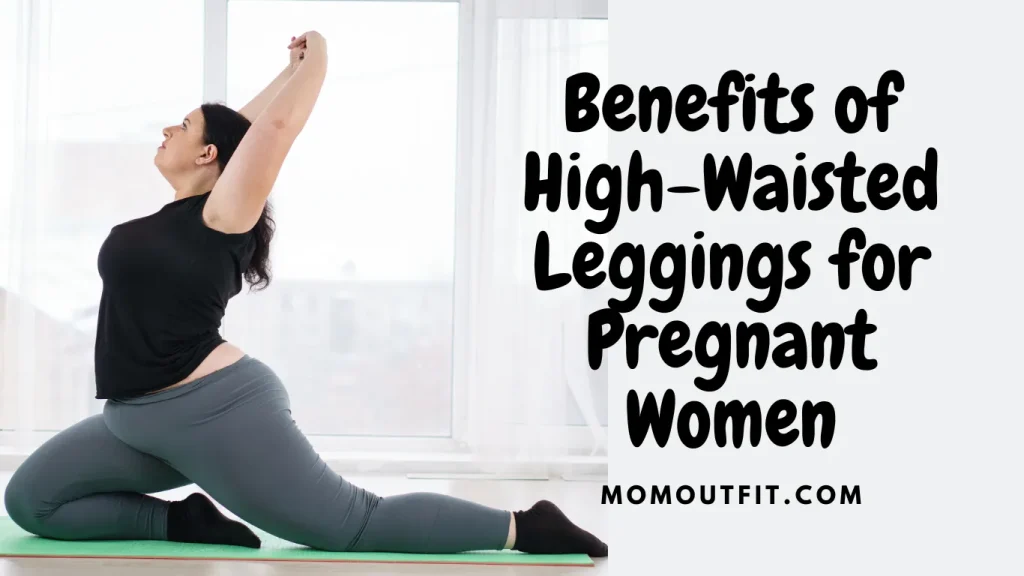 However, let's explore some significant advantages the high-waisted preggo leggings provide:
Comfort and Flexibility
High-waisted leggings are designed with stretchy and soft fabrics. So they provide optimal comfort during pregnancy. Also, the elastic waistband sits comfortably above the belly. It offers gentle support without constricting or digging into the skin. Even the flexibility of these leggings does not restrict movement, whether you are rushing or practicing prenatal yoga.
Support for the Growing Belly
High-waisted leggings provide excellent support for your growing bump. Their high waistband hugs the belly. In this way, it provides a gentle compression effect to alleviate discomfort and pressure related to an increasing abdomen.
Breathability and Moisture-Wicking Properties
Pregnancy often comes with hormonal changes increasing body temperature and perspiration. The breathable and moisture-wicking high-waisted leggings fabrics keep you cool and dry. Moreover, They allow air circulation and efficiently wicks away sweat.
Versatility and Styling Options
High-waisted leggings are incredibly versatile. You can wear them on various occasions and outfit combinations. It can be dressing up for a social event or casual for a day at home. Additionally, these pregnancy leggings pair well with maternity tops, tunics, dresses, or oversized sweaters.
Body-Positive and Confidence-Boosting
High-waisted leggings embrace your changing body shape and accentuate your beautiful bump. Wearing them can boost your confidence and make you feel stylish and empowered.
Best High-Waisted Leggings for Pregnant Women Suggestions:
Key Features to Look for in High-Waisted Leggings
As you know now, "are high-waisted leggings good for pregnancy?", you may look for them. But you should take care of several factors to select them. Let's explore the essential elements to look for:
Stretchy and Soft Fabric
Look for high-waisted leggings made from cotton, polyester, or a blend of materials. These fabrics provide a comfortable and flexible fit. So, the leggings can quickly adapt to body shape throughout pregnancy.
Adjustable Waistband
Look for leggings with an adjustable waistband. This feature allows you to customize the fit according to your comfort level and the stage of pregnancy. An elastic waistband ensures a snug and supportive fit without causing unnecessary pressure.
Seamless Construction
Consider leggings with seamless construction. It minimizes the chances of irritation or chafing against your skin. Thus, seamless leggings provide a smooth and comfortable experience for flexible movement.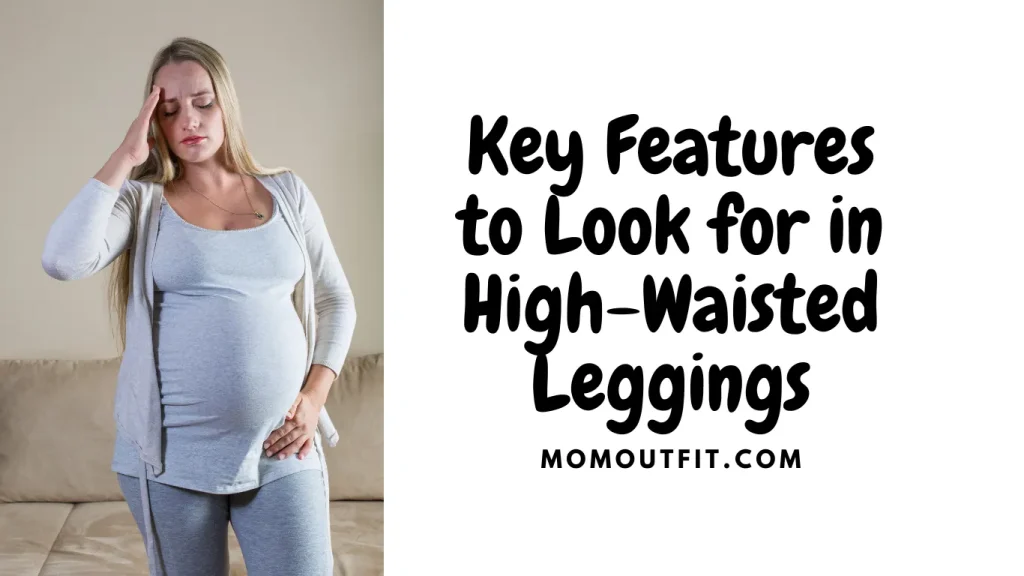 Supportive Design
Focus on the design and construction of the leggings. Look for features like a wide waistband to provide support and stability. Additionally, reinforced stitching can enhance the durability and support of the leggings.
Moisture-Wicking and Breathability
Buy high-waisted leggings with moisture-wicking and breathable properties. These features keep you cool and dry by wicking away sweat and allowing air circulation.
Size and Fit
Select the right size and fit for your body. Check out the size chart provided by the brand and measure yourself accordingly. Consider selecting a size that allows room for growth without being too loose or tight.
Read Customer Reviews
Read the user reviews before ordering high-waisted jeans or leggings. Their insights and experiences can better show how the leggings fit and whether they run true to size.
How to Style High-Waisted Leggings During Pregnancy?
High-waisted leggings offer endless styling possibilities during pregnancy. Some ideas for styling them during this particular time are:
Maternity Tunics or Flowy Tops
Pair your high-waisted leggings with maternity tunics or flowy tops for a chic and effortless look. These tops provide coverage and flatter your growing belly. Also, they create a fashionable ensemble and add a touch of vibrancy to your outfit.
Oversized Sweaters or Cardigans
Stay cozy and stylish by pairing your high-waisted leggings with oversized sweaters or cardigans. This combination adds warmth and creates a trendy and relaxed look. Therefore, select soft and comfortable fabrics for your sweaters or cardigans to enhance overall comfort.
Maternity Blouses or Button-Down Shirts
You can wear these leggings with maternity blouses or button-down shirts for a more polished and professional look. These tops can be tucked into leggings. So you can highlight your waistline and create a flattering silhouette. Add a belt for an extra touch of style and to accentuate your curves.
Layering with Jackets or Blazers
Add a layer to your outfit by merging jackets or blazers with high-waisted leggings. It can be a denim jacket, a leather moto jacket, or a tailored blazer. Hence, layering adds depth and texture to your look. This versatile styling option is perfect for both casual outings and more formal occasions.
Maternity Dresses with Leggings
Don't limit your dresses to just warmer weather. Transition them into fall or winter by pairing them with high-waisted leggings. Again, select looser fit or empire waistline dresses to accommodate the belly.
Accessorize to Elevate the Look
Complete your high waisted leggings outfit with accessories that showcase your style. You may wear jewelry, scarves, belts, or stylish footwear to enhance your overall look. These accessories add a touch of flair and elevate your outfit from simple to extraordinary.
How to Maintain and Care High-Waisted Leggings
Proper maintenance and care extend the life of your high-waisted leggings. Also, you can keep them in excellent condition throughout your pregnancy. Some tips to ensure that your leggings stay comfortable, vibrant, and ready to wear are:
Follow the Care Instructions
Always check the care label or instructions provided by the manufacturer. Different fabrics may have specific care requirements, like machine washing, hand washing, or dry cleaning only. Following them can prevent damage and maintain the integrity of the leggings.
Wash with Similar Colors
wash your high-waisted leggings with similar colors to prevent color bleeding or transfer. It preserves the original color and prevents unwanted staining or fading. In my view, separate dark-colored leggings from light-colored ones to avoid any potential color transfer.
Use Mild Detergent
Use a mild and gentle detergent when washing your leggings. Harsh detergents can cause fabric damage or lead to skin irritation. Furthermore, avoid using bleach or fabric softeners to prevent the fabric's degradation and the leggings' stretchiness.
Wash in Cold Water
Cold water is generally recommended for washing leggings. It helps retain the fabric's elasticity and minimizes shrinkage. Alternatively, hot water can cause the leggings to lose shape or stretch. It can be better if you follow the temperature guidelines on the care label.
Avoid Excessive Heat
High temperatures can be detrimental to the quality of your leggings. Avoid using high heat when drying them. Instead, use a gentle cycle or air-drying to preserve the fabric's integrity.
Store Properly
Store your high-waisted leggings in a cool and dry place if you are not wearing them. Also, avoid hanging them by the waistband to resist stretching. You can fold the leggings and place them in a drawer or storage container to maintain their shape and prevent unnecessary wear and tear.
Handle with Care
Treat your leggings with care to avoid snags or tears. Avoid rough surfaces or sharp objects to prevent fabric damage.
Alternatives to High-Waisted Leggings for Pregnant Women
While these leggings are famous for pregnant women, they may not be everyone's preferred option. If you want alternatives to high-waisted leggings during pregnancy, consider the following options that provide comfort, style, and versatility:
Maternity Jeans
Maternity jeans are designed to accommodate your growing belly while providing a stylish and flattering fit. They come in various styles, including under-the-belly and over-the-belly options. Maternity jeans offer the look of regular jeans with added stretch and support for your changing body.
Maternity Leggings with Under-the-Belly Band
Opt for maternity leggings with an under-the-belly band if you prefer a lower waistline. These leggings have a lower waistband that sits comfortably beneath your growing belly, offering support and flexibility. They are made from stretchy and soft fabrics that provide a comfortable fit throughout your pregnancy.
Maternity Trousers or Slacks
For a more polished and professional look, consider maternity trousers or slacks. These pants have a higher rise and a stretchy waistband to accommodate your belly. They offer a tailored and structured look while providing comfort and support.
Maternity Skirts and Dresses
Embrace your feminine side with maternity skirts and dresses. They are available in various lengths and styles, from maxi dresses to midi skirts, allowing you to showcase your style while staying comfortable. Look for designs with empire waistlines or adjustable waistbands to accommodate your growing belly.
Maternity Overalls or Jumpsuits
Overalls and jumpsuits can be a fun and trendy alternative to high-waisted leggings. Opt for maternity-specific designs that provide room for your belly and offer adjustable straps for a customizable fit. These one-piece garments are fashionable and convenient for quick and easy outfit choices.
Yoga Pants or Maternity Active Wear
Consider maternity yoga pants or active wear if you want comfort and flexibility. These pants are made from stretchy and breathable fabrics that allow freedom of movement. They support your belly and can be worn for prenatal yoga, exercise, or casual outings.
Potential Risks and Precautions Wearing High-Waisted Leggings
Be aware of potential risks and take necessary precautions. Some considerations to keep in mind are:
Compression and Blood Circulation
High-waisted leggings with excessive compression or tight waistbands can potentially restrict blood circulation. It can lead to discomfort or swelling in the legs and feet. Opt for leggings with a supportive yet gentle strap for proper blood flow.
Allergic Reactions
Some pregnant women may develop skin sensitivities or allergies during pregnancy. Pay attention to the leggings' fabric composition and avoid irritating materials. If you notice any allergic reactions or skin discomfort, discontinue use. Then, consult with your healthcare provider.
Overheating
While high-waisted leggings made from breathable fabrics are designed to keep you comfortable, avoiding overheating is essential. Pregnancy hormones can increase body temperature. So choose leggings made from moisture-wicking materials. Dress in layers to control body temperature effectively.
Proper Fit
Ensure the leggings fit correctly and do not cause excessive pressure on your belly. Too tight or restrictive leggings can be uncomfortable and potentially affect your baby's movement. Choose a size that provides a snug yet comfortable fit, allowing room for your growing belly.
Skin Irritation
Some women may experience increased sensitivity or skin changes during pregnancy. Choosing leggings made from soft, hypoallergenic, and breathable fabrics is essential to minimize the risk of skin irritation. If you notice discomfort or skin issues, switch to a different fabric or consult your healthcare provider.
Hygiene
Maintain proper hygiene when wearing high-waisted leggings. Cleanse and moisturize your skin regularly, especially in areas covered by leggings. It helps prevent bacterial or fungal infections and promotes overall skin health.
Personal Comfort
Each woman's pregnancy experience is unique. Pay attention to your body and personal comfort levels when wearing high-waisted leggings. If you experience discomfort or unease, consider alternative maternity wear options.
Frequently Asked Questions About High-Waisted Leggings
There are some common concerns and myths about these leggings. Some of them are:
Will high-waisted leggings restrict my baby's movement?
No! They are designed to provide comfort and flexibility. They have a stretchy waistband without restricting your baby's movement. Moreover, they accommodate the growing belly and support you gently.
Can high-waisted leggings cause overheating?
Again no! These leggings are made from breathable and moisture-wicking fabrics. Likewise, these fabrics allow proper air circulation and regulate body temperature. You will feel calm and comfy during summer days or increased body warmth due to hormonal changes.
Do high-waisted leggings cause varicose veins or circulation issues?
Last time no! These long leggings can reduce some discomfort associated with varicose veins. They provide mild compression to support blood flow. However, choosing the right size is essential. Besides, consult with your healthcare provider if you have specific concerns.
Will high-waisted leggings stretch out over time?
High-waisted leggings made from quality materials and proper construction should retain their shape and elasticity over time. However, excessive stretching or incorrect care can affect their longevity. Follow the care advice provided by the manufacturer and avoid excessive pulling or stretching when putting them on or taking them off.
Can I continue wearing high-waisted leggings after pregnancy?
Definitely! They are versatile and can be worn post-pregnancy as well. They provide comfort and support postpartum as your body gradually returns to its pre-pregnancy shape. High-waisted leggings can be a staple beyond pregnancy, offering a comfortable and stylish option for everyday wear.
Final Words
Throughout this guide, I have discussed "are high-waisted leggings good for pregnancy?" I hope you enjoyed reading it.
Every woman's journey is unique, and what works for some may not work for others. Listening to your body and prioritizing your comfort and well-being is essential.
You should consult your healthcare provider for any specific concerns or medical conditions.
Happy styling, and congratulations on this exciting chapter of your life!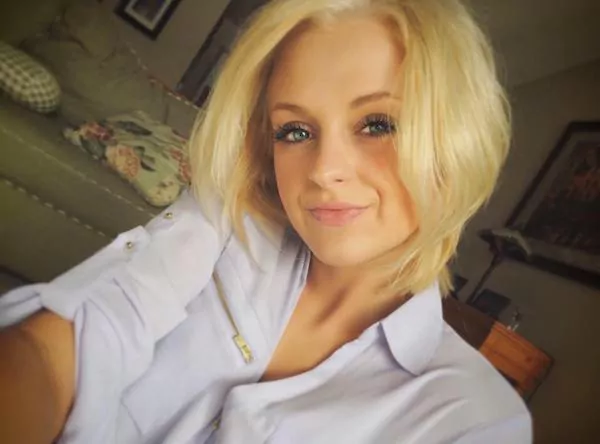 Born in Texas, Jennifer loves to spend time with her kids. Often, she shares her thoughts from the experience of being a mother. She focuses on surprising the Momoutfit readers with incredible information. Her vision is being a better mother, a visionary person.